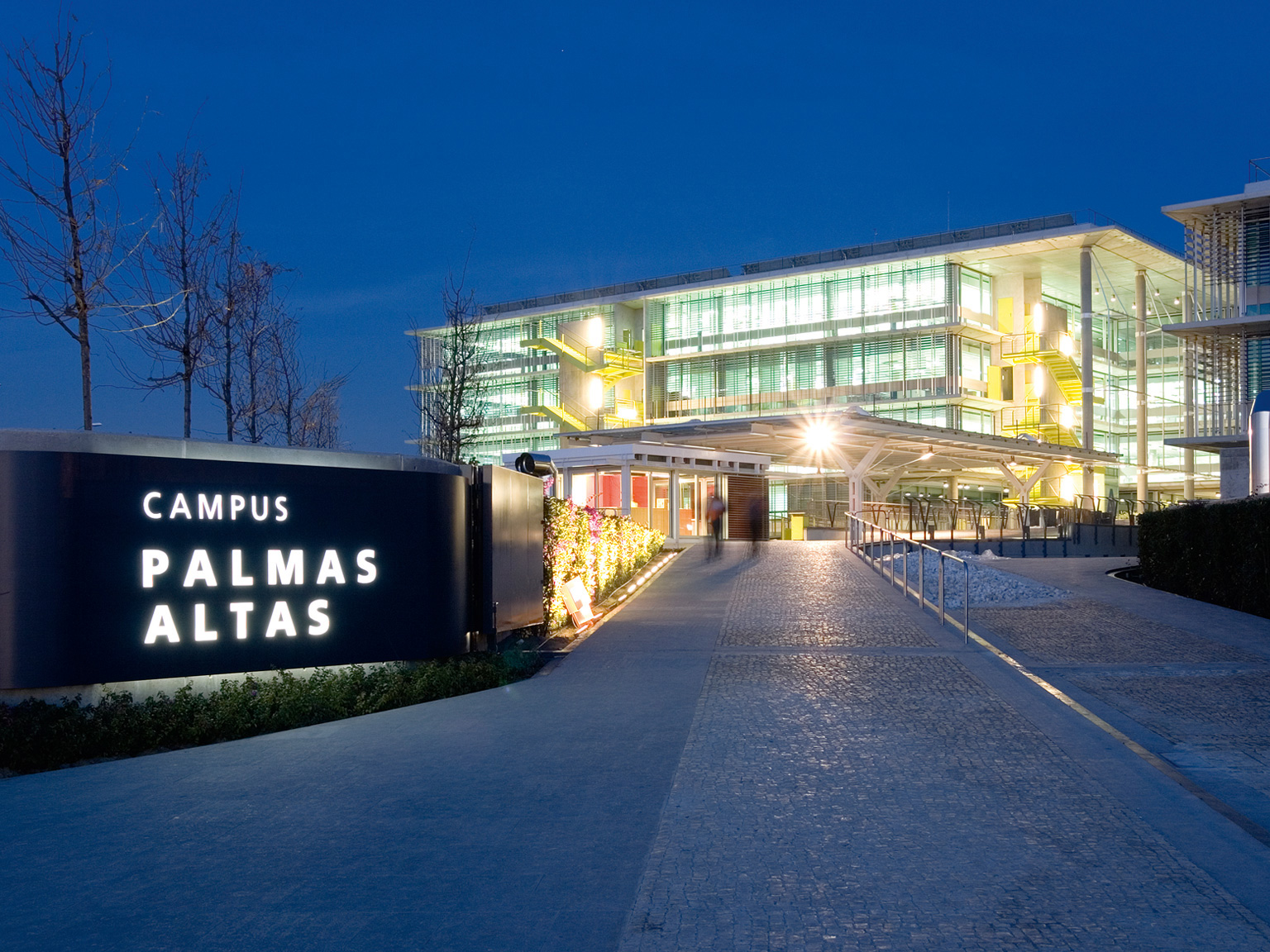 Seville, Spain. 2005-2014
Palmas Altas Technology Centre, the new head office for the Seville company Abengoa, is designed to be a new benchmark in sustainable architecture. 
A project going further than just following the typical characteristics of a business park, aiming to become a real community, compact and grouped around a courtyard. The design features spaces that have a strong sense of cohesion and are designed to encourage the interaction and collaboration of its employees.
With a building area of 538,200 sqft. and 1,300 underground parking spaces, the new centre consists of seven buildings arranged around a central square and optimized to maximize the effect of self-shading and temperature control. It is configured with a system of exterior spaces, gardens, and leisure and entertainment areas, reflecting the Andalusian architecture vernacular and responding to the varying local weather conditions. The central square defines the entrance to the site and reflects the spirit of collaboration of Abengoa, acting as the main interaction centre for the park users. Likewise, the scale of the buildings ensures the quality of life of its occupants, providing natural lighting and ventilation throughout the interior, as well as having slats in the facades to control the entry of excessive light. In each building, the spaces are connected vertically to the exterior through an atrium that acts as a unifying central courtyard.
The project presents state-of-the-art environmental technologies such as photovoltaic panels, a trigeneration plant, hydrogen fuel cells, and efficient lighting and air conditioning systems (HVAC, Heating, Ventilation and Air Conditioning). Energy-saving criteria are also applied in all aspects of the design; from the buildings' geometry based on compact forms, the enveloping composition of the building, or the distribution and design of the solar control devices, to the choice of the materials.
The result of Abengoa's demanding "green" agenda is an innovative design, designed for pedestrian use only, and will form part of the new type of office of the future.
CPA has achieved a LEED Platinum Certification.
Place/Date: Seville, Spain / 2005-2014
Client:

 

Abengoa

Budget:

100 M €

Area:

 

1,076,400 sqft. (538,200 sqft. offices + 75,400 sqft. services + 462,800 sqft. car park)

Architects:

 luis vidal + architects / RSHP

Consultants:

Arup / D-Fine / Bovis / Facilitec / Novotec / Reflect / Audioscan / Heliopol / Siteco / Lindner / Clestra / Vitelsa / Calter

Stage:

 

Built

Sustainability:

 

LEED Platinum Certification

Team:

 Patricia Allona – María Álvarez-Santullano – María Astiaso – David Ávila – Stepen Barrett – Stuart Blower – Pablo Codesido – Luis Colino – Esther Crespo – Eva Couto – Marta Cumellas – Almudena de Benito – Claudia García Nieto – Jason García – Isabel Gil – Lennart Grubb – Iván Harbour – Amo Kalsi – Marcin Koltunski – Juan Laguna – Jugatx López – Carmen Márquez – Irene Méndez – Mariola Merino – Héctor Orden – María Ortega – Javier Palacios – Almudena Pérez – Bárbara Pérez – Richard Rogers – Francisco Rojo – Irene Rojo de las Heras – Roberta Sartori – Amelia Seisdedos – Gentaro Shimada – Simon Smithson – Graham Stirk – David Sobrino – Graham Stirk – Óscar Torrejón – Paloma Uriel – Josefina Vago – Veronica Van Kesteren – Laura Vega – Laura Villa – Luis Vidal – Laura Villa