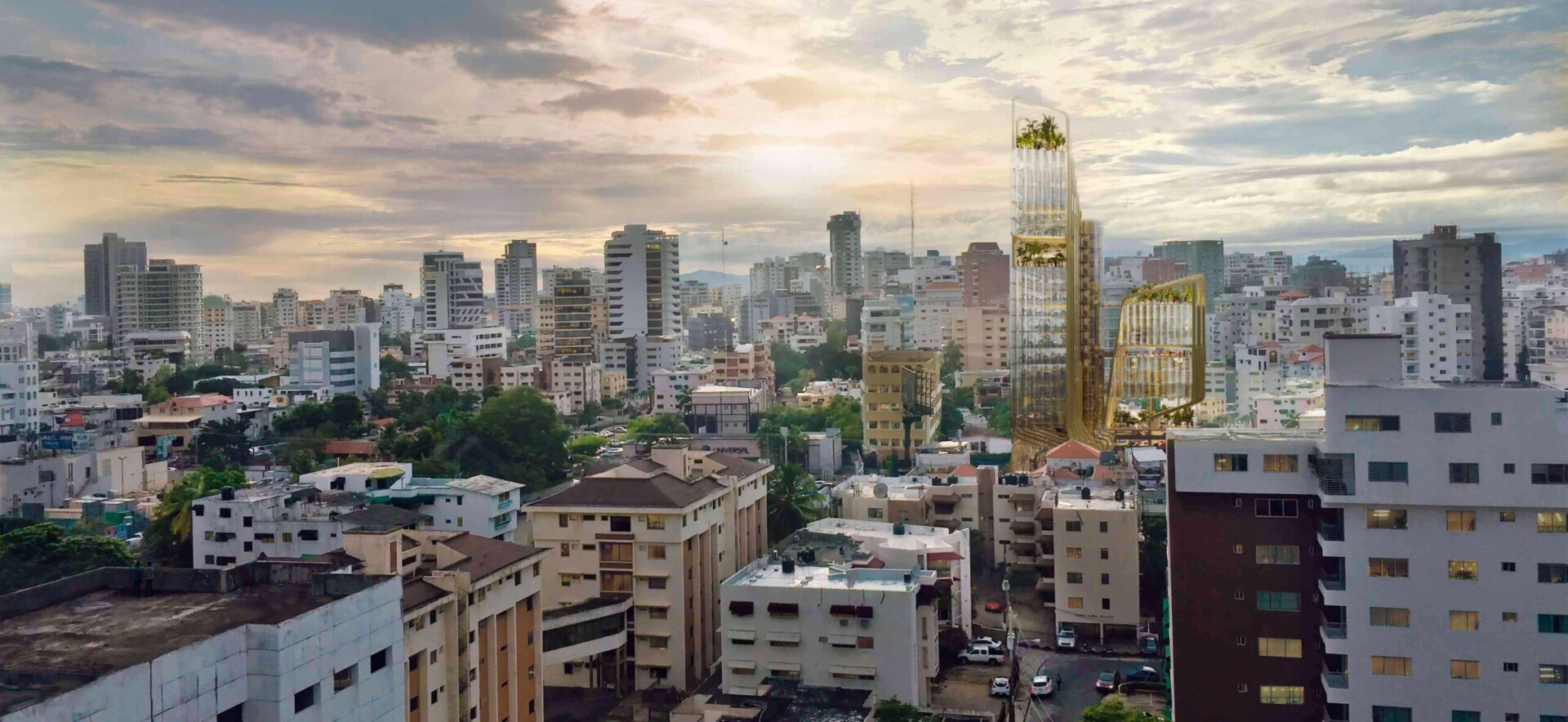 Salas Piantini Corporate Campus
Santo Domingo, Dominican Republic. 2020-Ongoing
The future Salas Piantini Corporate Campus will stand out among the new towers of the city, making a difference and innovation while continuing to adapt to the aesthetics and nature of the immediate context. The verticality of the project becomes a landmark in the city. The envelope is a weft of slats that are fluidly distributed adapting to the full and empty spaces of the building so that a harmonious unity is perceived. Apart from being the essence of its aesthetic image, said envelope is in turn the structural support of the building. 
The presence of the building from any scale is imposing, positioned between two key sectors in the city, being able to revitalize the image of the area to a great extent. Its fluid and sinuous structure draw the user´s attention, leading them to participate in the experiences that the project has to offer. 
Completing the city, communicating and living together in it, and achieving a singular landmark, is the main objective of the proposal. Always in coexistence with the existing uses in the environment, they are intended to cover the needs detected in the situation and regenerate the urban fabric through a new interconnected network of activity-attracting sources. For this, the proposal generates spaces of different character: those more temporary, destined for the city or "empty spaces" and those containers of the most permanent uses or "full spaces".
Finally, the design aims to create a sustainable proposal over time, marked by innovation and technology. A building that not only respects the surrounding environment but is also capable of generating an added environmental contribution.
Place/Date: Santo Domingo, Dominican Republic / 2020-Ongoing
Client:

 

Salas Piantini & Asociados
Area:

 

484,500 sqft.

Architects:

 luis vidal + architects

Consultants:

 

Ingeniería Bernabeu Ingenieros / Optimun / AAS

Stage:

Under development

Team:

 Carmen Andújar – 

Juan Bueno – Camille McCollum – Francisco Rojo – Cristina Sánchez – Fernando Sánchez – Óscar Torrejón – Marcos Velasco – Luis Vidal