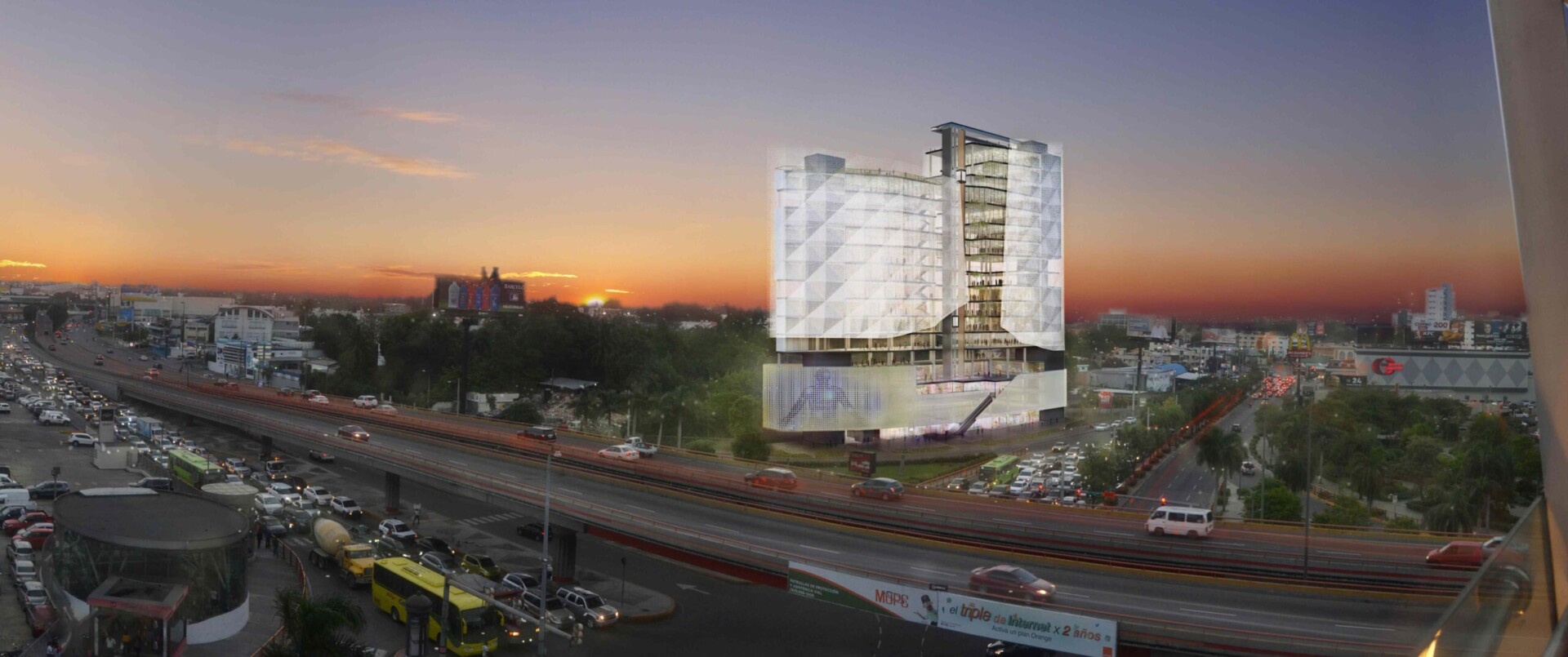 Santo Domingo, Dominican Republic. 2016-Ongoing
The project was born with the motivation to value one of the most emblematic corners of the National District, an area with the most potential to become a social and cultural meeting point, stimulating its visitors and users to live a unique experience compared to more conventional programs.
The proposal of luis vidal + architects is defined by a single objective and three concepts:
1. The building as an advertisement: the node where the building is located is not only perfect as a publicity spot for all the surrounding malls, but also for screening information regarding city events, and as a digital canvas to display and publicize the most avant-garde art and local culture.
2. A Green building: This is an unbeatable opportunity to establish, in the new heart of Santo Domingo, a green benchmark that demonstrates that technological innovation is not at odds with environmental commitment.
3. A Hybrid building: a multidisciplinary building with mutually enriching activities, promoting creativity, productivity and alternative recreation, establishing a distinctive landmark for the Caribbean.
The objective is to provide the city with new uses that will allow the citizens to enjoy new sensory experiences, reinventing the way of living, feeling and enjoying the building.
The proposal creates architecture that serves the five senses and the user who is in permanent interaction with the city, redefining the concept of urban quality. Aiming to become a social meeting landmark, its conception is being carried out in a sustainable way and respectful with the environment.
The architectural program aims to interact with the five senses and with experiences such as freedom, serenity, intimacy, mystery, surprise and movement.

Place/Date: Santo Domingo, Dominican Republic / 2016-Ongoing
Client:

 

Grupo Patio Capital Partners
Area:

 414

,500 sqft.

Architects:

 luis vidal + architects

Stage:

 Under development

Team:

Carmen Andújar – Trinidad Antunovic – José Benito – Joaquín Maire – Alejandro Nieto – Isabel Rodrigo – Cristina Sánchez – Óscar Torrejón – Luis Vidal