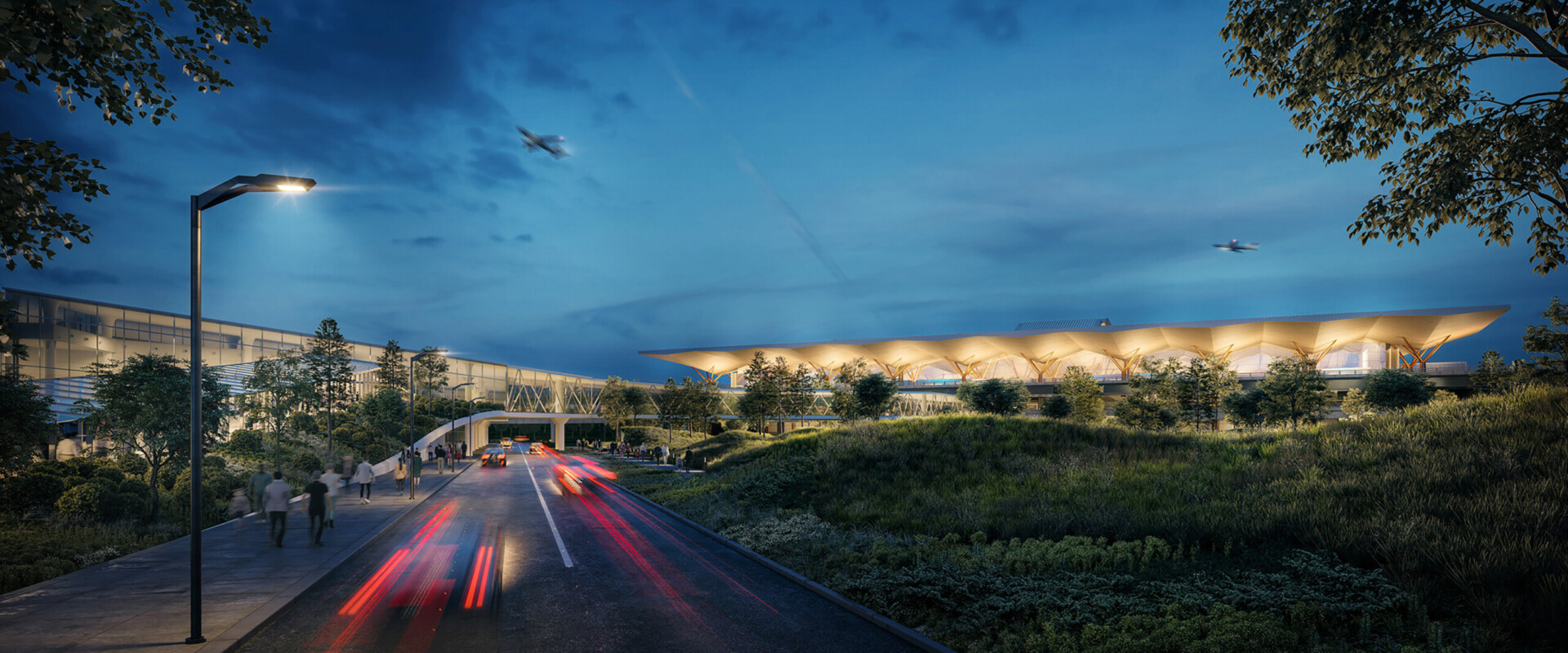 Pittsburgh International Airport
Pittsburgh, USA. 2018-Ongoing
Pittsburgh International Airport needs to be updated to meet the changing needs of the 21st century. The new terminal's design will have the capability to meet all the growth forecasts of the routes and passenger traffic, being able to process between 12-18 million passengers per year.
The current facility was built for connecting passengers and is not ideal for an O&D market. The Terminal Modernization Program will create a more efficient and pleasant experience for passengers and users from arrival at the airport to the boarding gate, by consolidating landside and airside operations into a single connected and adaptable facility.
The concept design for the Pittsburgh International Airport Terminal Modernization Program reflects the most outstanding features of Pittsburgh's Nature, Technology and Community (gathered under a unique concept created by Luis Vidal: NaTeCo). It was developed by looking at functionality first, and then, the way to create an iconic, practical and affordable design.
The inspiration came directly from the region's rolling hills and rivers, Pittsburgh's technological renaissance and its strong sense of community.
The main conceptual designs are:
• Separate levels for departing and arriving passengers.
• Extended TSA checkpoint.
• Shorter walking distances.
• Green squares/meeting spaces.
• Additional space for concessions, artwork and amenities.
• Technological improvements and automated systems.
• Emphasis on sustainability.

Place/Date: Pittsburgh, USA / 2018-Ongoing
Client:

 

Allegheny County Airport Authority
Budget:

 

1.3 B USD
Area:

 

1,025,000 sqft.
Architects:

Gensler + HDR in association with luis vidal + architects

Contributors:

 Burohappold / BNP / Thorton Tomasetti / OJB / Ricondo / F+G

Stage: Under construction
Team:

 

Joao Abreu – Guillermo Alvarez – Constanza Andrade – Sabina Aparicio – Trinidad Antunovic – María Arce – Almudena Bustos – Nuria Campillo – Fernando Celaya – Javier Domínguez – Beatriz Eyries – Laura Fermoso – Beatriz Fernández-Bermejo – Álvaro Ferrer – Juan Huarte – Sanae Kalhil – Juan Francisco Letelier – David Meana –Carmen Merlo – Fernando Moiño – Natalia Moreno – Sara Moreno – Xell Ortí – Pierluca Rocchegianni – Patricia Rojas – Juan Rubio – Ángel Ruíz – Eduardo Sánchez – Óscar Torrejón – Luis Vidal