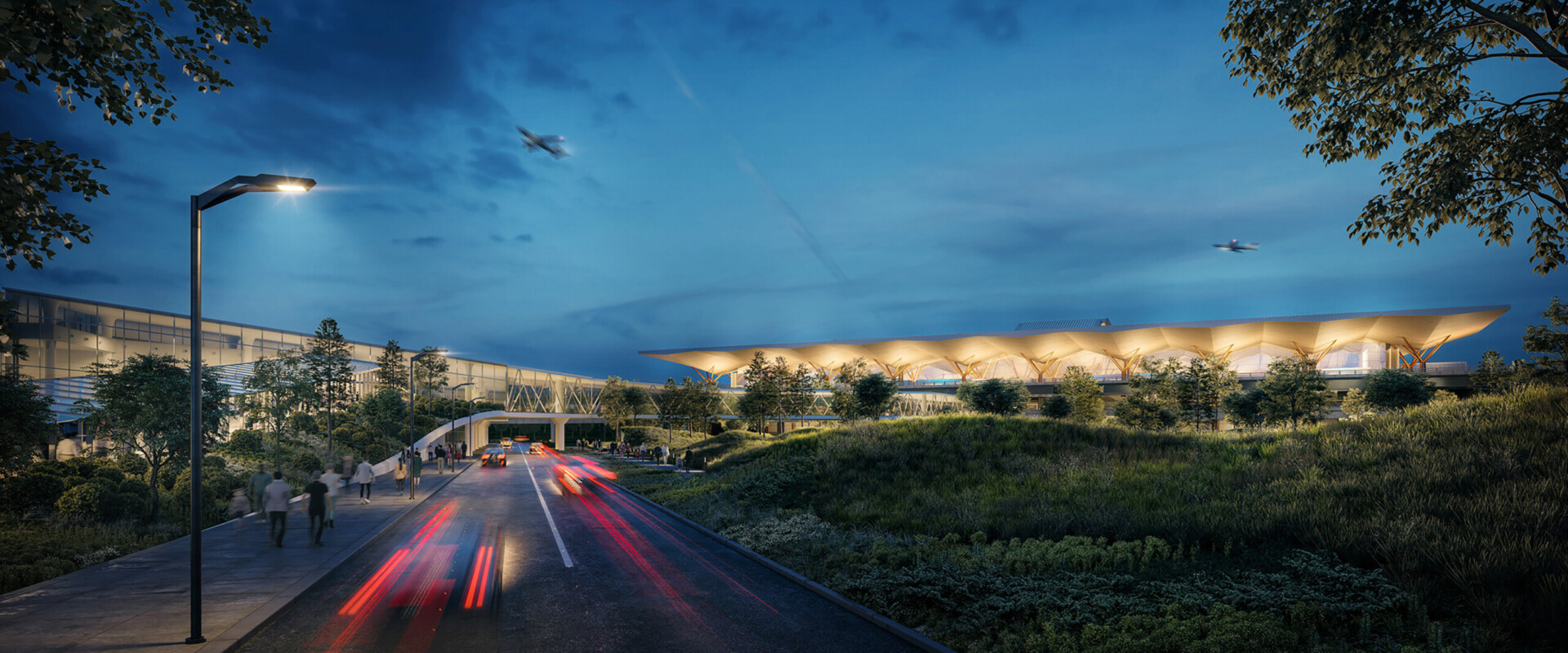 Pittsburgh International Airport Terminal Modernization Program
Pittsburgh, Pennsylvania, USA. 2018-Ongoing
Pittsburgh International Airport needs to be updated to meet the changing needs of the 21st century. By its opening in 2025, the new terminal's design will have reached the capability to meet all the growth forecasts of the routes and passenger traffic, being able to process between 12-18 million passengers per year.
The current facility was built just for connecting passengers, so it is not ideal for an Origin & Destination (O&D) market. The Terminal Modernization Program (TMP) will create a more efficient and pleasant experience for passengers and users from arrival at the airport to the boarding gate, by consolidating landside and airside operations into a single connected and adaptable facility.
The concept design for the Pittsburgh International Airport Terminal Modernization Program arises from an innovative concept that is exclusive to this project: NaTeCo combines Nature + Technology + Community, the three pillars sustaining the city of Pittsburgh and making it a unique destination.
The inspiration behind NaTeCo came directly from the region's rolling hills and its extensive wooded forests, reflected in the roof's sinuous curves its materiality; from the human warmth of the local community, which is shown in the bronze tone of the terminal's pillars; and the strong steel industry and technological advances of the city, present in this design for a state-of-the-art airport at the forefront of airport technology.
Place/Date: Pittsburgh, Pennsylvania, USA / 2018-Ongoing
Client:

 

ACAA (Allegheny County Airport Authority)

Architects

:

 luis vidal + architects in association with Gensler and HDR

Consultants:

 Buro Happold / BNP / Thornton Tomasetti / OJB / Ricondo / F+G / Barry Weekes / Fractal

Area:

 

1,025,000 sq. ft. (815,000 sq. ft. new + 210,000 sq. ft. renovation)
Budget:

 

1.3 B USD
Stage: Under construction
Team:

 

Joao Abreu – Guillermo Alvarez – Constanza Andrade – Sabina Aparicio – Trinidad Antunovic – María Arce – Alvar Barrera – Almudena Bustos – Nuria Campillo – Fernando Celaya – Javier Domínguez – Beatriz Eyries – Laura Fermoso – Beatriz Fernández-Bermejo – Álvaro Ferrer – Juan Huarte – Sanae Kalhil – Juan Francisco Letelier – David Meana –Carmen Merlo – Fernando Moiño – Natalia Moreno – Sara Moreno – Xell Ortí – Pierluca Rocchegianni – Patricia Rojas – Juan Rubio – Ángel Ruíz – Eduardo Sánchez – Óscar Torrejón – Luis Vidal