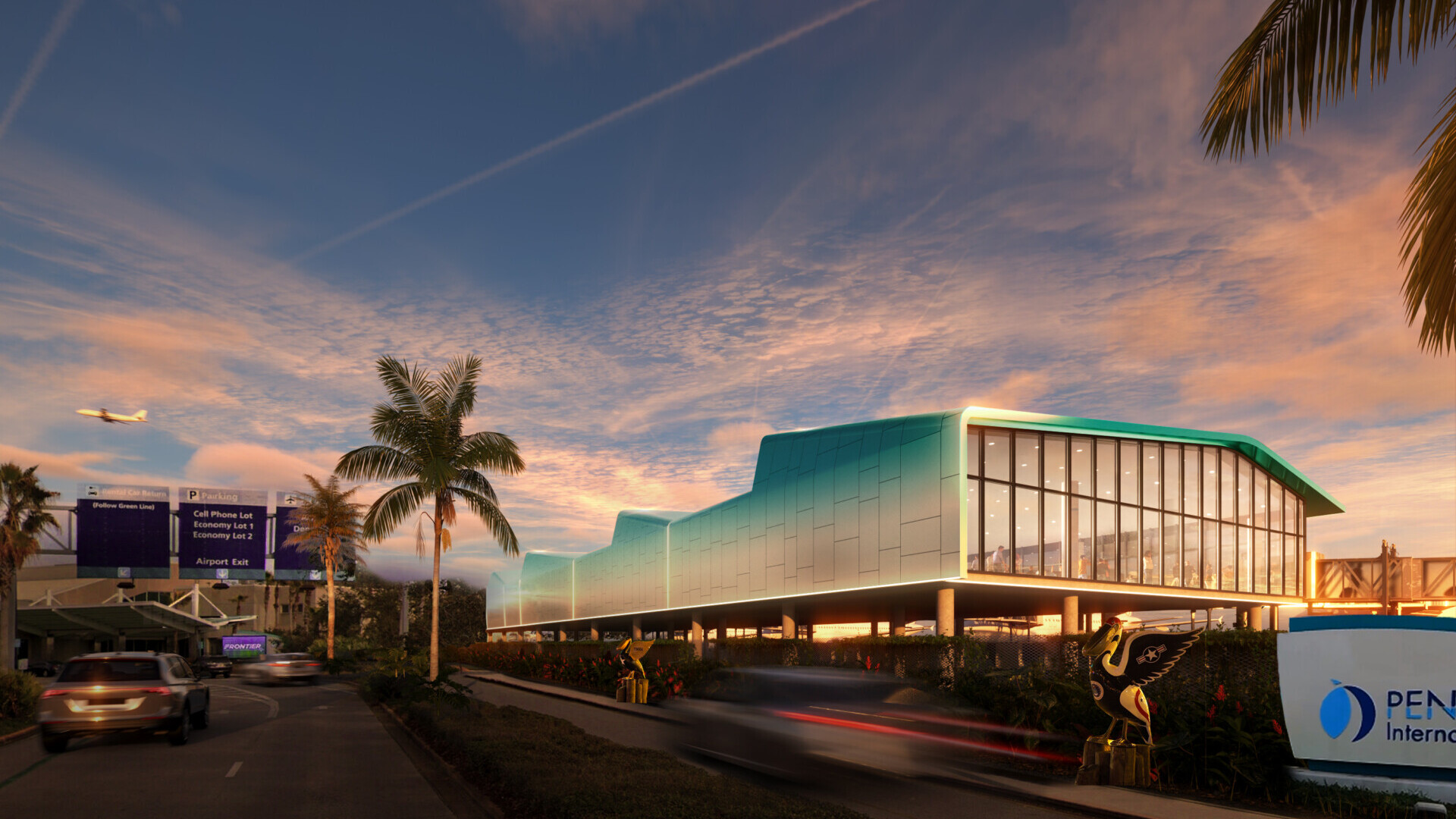 Pensacola International Airport Terminal Building Expansion
Pensacola, Florida, USA. 2023-Ongoing
Pensacola is a unique city in the United States for its rich historical legacy and its solid balance between tradition and modernity. Its beautiful beaches are just one of its many attractions, which have made it a valuable destination. Its airport must respond to this dynamism, with a new terminal designed by luis vidal + architects and EXP. This project provides 5 new boarding gates and additional concessions space that elevates the passenger experience.
The heart of the project is the concourse, a new plaza of hold rooms where passengers won't feel held anymore. An open floorplan and visual connection to the boarding gates through all the concessions area achieve this, letting the passengers enjoy them while waiting for the boarding process, and having a direct impact on the airport's revenue. This plaza is also equipped with various types of seating, including working stations, electric plugs, and a QR connection to all businesses around.
Shaped by the sun and inspired by the dunes, the roof is designed after a careful analysis of the solar path and incidence, with volumes inspired by the local dunes, intersecting in skylights to the north that result in a more efficient building and a more comfortable stay.
Just as old and new meet in Pensacola, the existing airport facilities meet the new construction through a corridor on the eastern side. This positioning simplifies the passenger flow, reducing the number of turns and decision points, and resulting in shorter walking distance and a more intuitive wayfinding. An enhanced passenger experience that imprints the essence of Pensacola on them. A first welcome and a last goodbye to the city.
Place/Date: Pensacola, Florida, USA / 2023-Ongoing
Client:

 City of Pensacola

Architects:

luis vidal + architects in association with EXP

Consultants:

Atkins / JSM / Newhouse&Associates / Connico / Arora / Tierra / Digital Building Systems / Schmidt / Southeastern Surveying & Mapping / Raymond Engineering-Georgia

Area:

50,00

0 sq. ft.

Budget:

 70 M USD

Stage:

Under development

Team:

 Trinidad Antunovic – Álvar Barrera – Fernando Callejón – Itziar de Francisco – Laura Gómez – Andrew Kirchhoff – Fernando Moiño – Roberto Moraga – Gabriel Sgorbini – Nicolás Orellana – Pierluca Roccheggiani – Patricia Rojas – Óscar Torrejón – Luis Vidal – Gorka Villaescusa