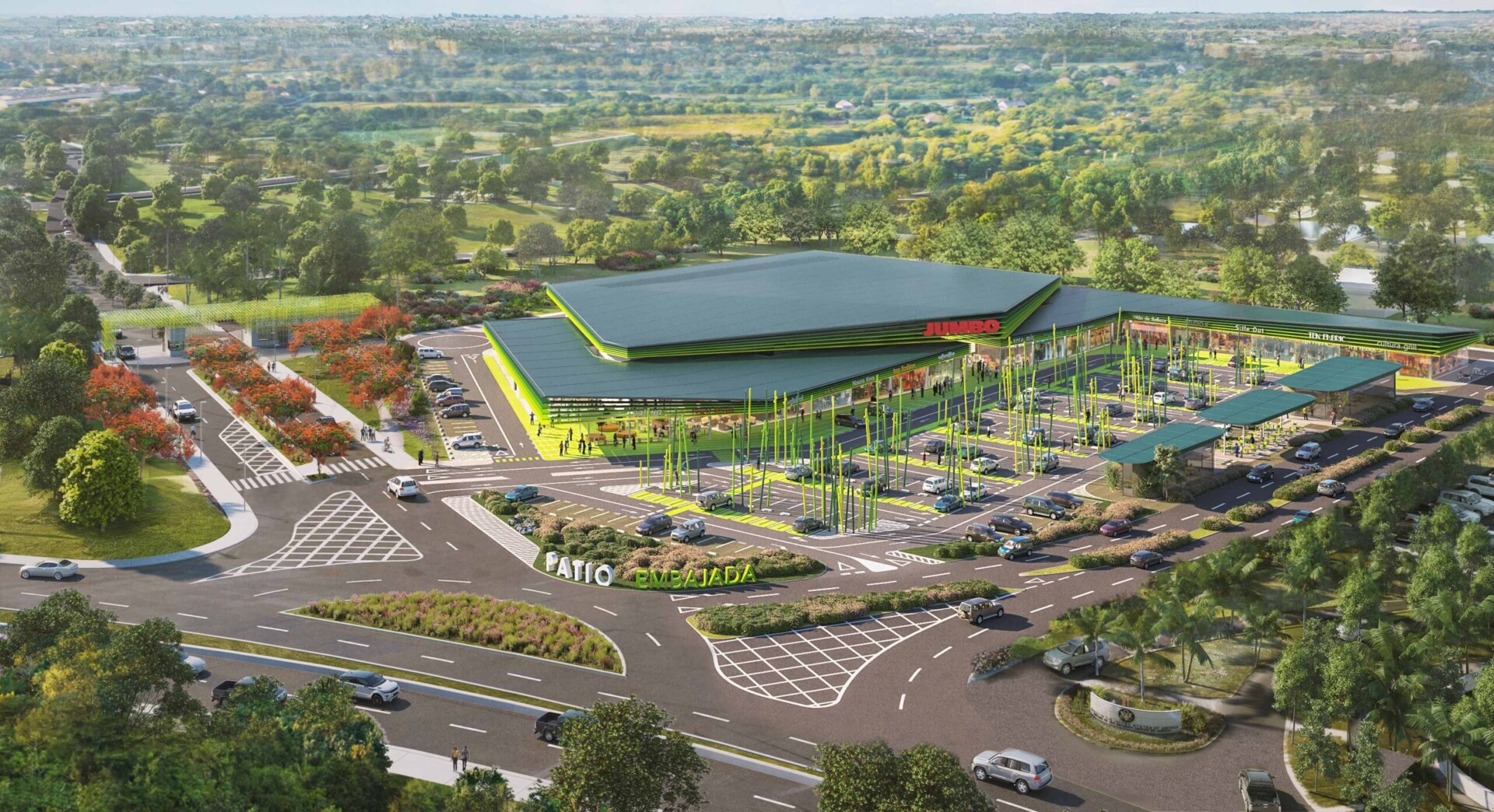 Santo Domingo, Dominican Republic. 2019-Ongoing
Patio Embajada, within Los Robles Masterplan, aims to become a local commercial landmark with a developed area of 83,312 square feet and 263 parking spaces.
It is distributed in three main elements. The first one is a series of Z-shaped commercial premises (39,180 square feet) embracing the central area (44,132 square feet); the second one, the parking area and, last, two stand-alone premises (isolated but yet coordinated and located around the access points to ensure the flow of visitors). The commercial spaces are granted visibility from the street, establishing a hierarchy that integrates the parking area and generates a coherent, holistic design.
An architecture of horizontal strips guides users towards the access points, using color on the pavement and vertical elements of the parking area to create direct flows towards the center and generate a more intuitive space for pedestrians. The geometry of the roof projections, with a range of colors on the green and yellow spectrum, marks the entrance through large cantilevers.
Integration with the environment, intuitive orientation, and color psychology are just some of the conceptual studies carried out to add value directly and indirectly.
Place/Date: Santo Domingo, Dominican Republic / 2019-Ongoing
Client: Grupo Patio Capital Partners

Architects:

 luis vidal + architects

Area: 205,000 sq. ft.

Stage:

 Under development

Team:

 Marina García Antón – Patricia Rojas – José Sánchez – Cristina Sánchez – Ana Taboada De Zúñiga – Javier Torrecilla – Óscar Torrejón – Marcos Velasco – Luis Vidal