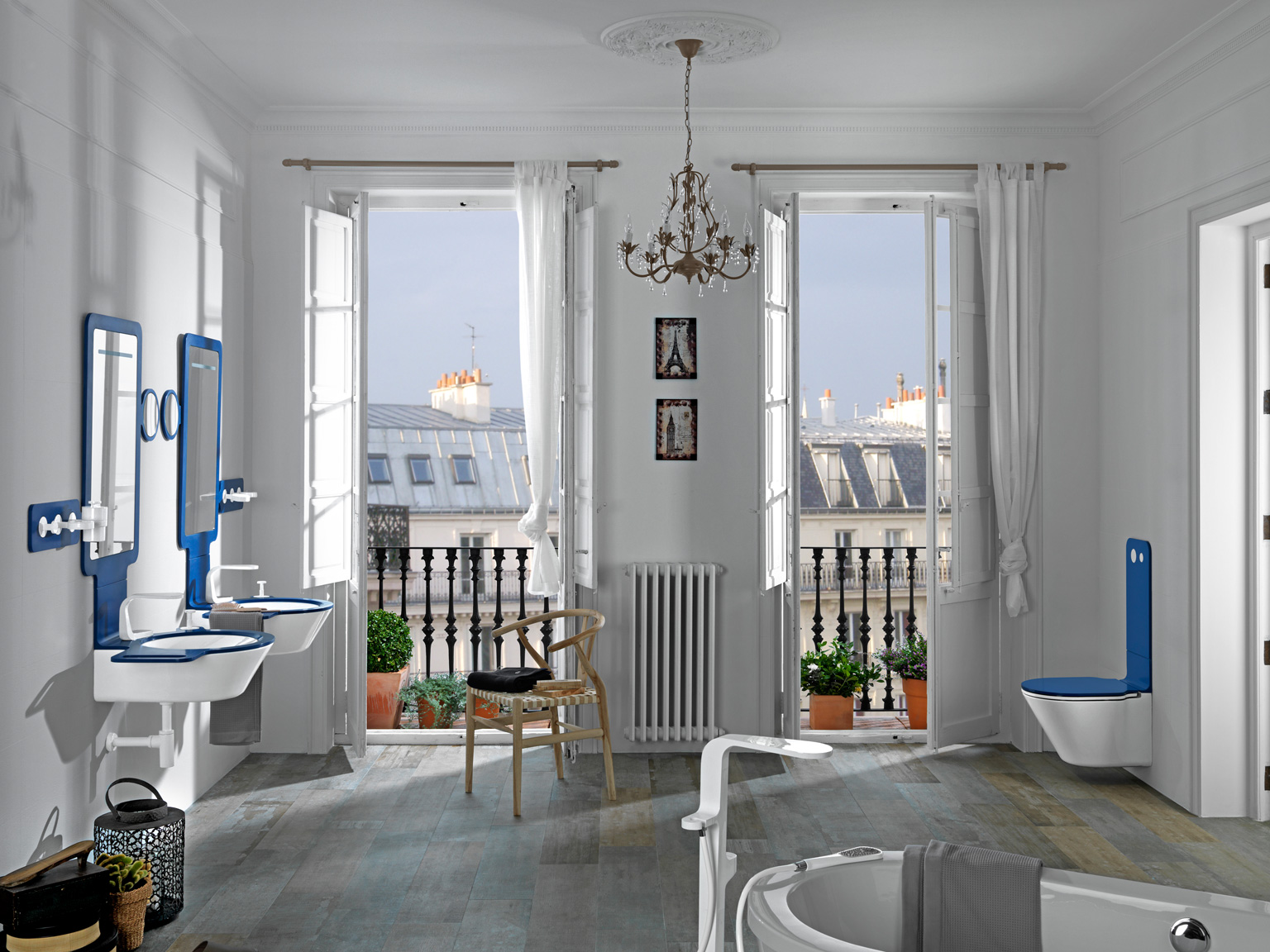 Bathrooms have undergone few changes since their 'invention' in the 19th century. After incorporating the lavatory, they quickly evolved into a space with tiled walls and floors with porcelain toilets.
From this simple definition began a 'process' of bathroom design in which architects, or their clients, selected, on the one hand, the ceramic tiles for the walls and floor and, on the other hand, the accessories to be installed on both surfaces. Nowadays, sanitary lines and accessories related to them are selected from a vast range of products, thus creating a 'pick 'n mix' approach. Still, nonetheless, the spatial configuration has long remained unchanged.
Our concept revolves around integrating the wall surface and the embedded ceramic elements, the two critical components in the bathroom. We intend to create a small, individual space for each sanitary element: bathtub, sink, and toilet. The ceramic pieces are standard and restrained, while the auxiliary components present enormous flexibility in terms of design and optional bathroom fittings (storage, towel racks, mirrors, etc.). By developing this concept, we have found not just one solution but the key to an infinite range of options.
Therefore, our analysis has focused on the possibility of radically changing the perception and architectural composition of bathrooms. We are principally wondering if we could contribute to reinventing the product by merging the two fields in which Porcelanosa and Noken are experienced.
Place/Date: Madrid, Spain / 2010-2012
Client:

 

Noken, Porcelanosa Group

Architects:

 luis vidal + architects in association with RSHP

Stage:

 

On sale

Team:

 Nick Axel – Carlos Peña – Richard Rogers – Patricia Rojas – Simon Smithson – Óscar Torrejón – Luis Vidal