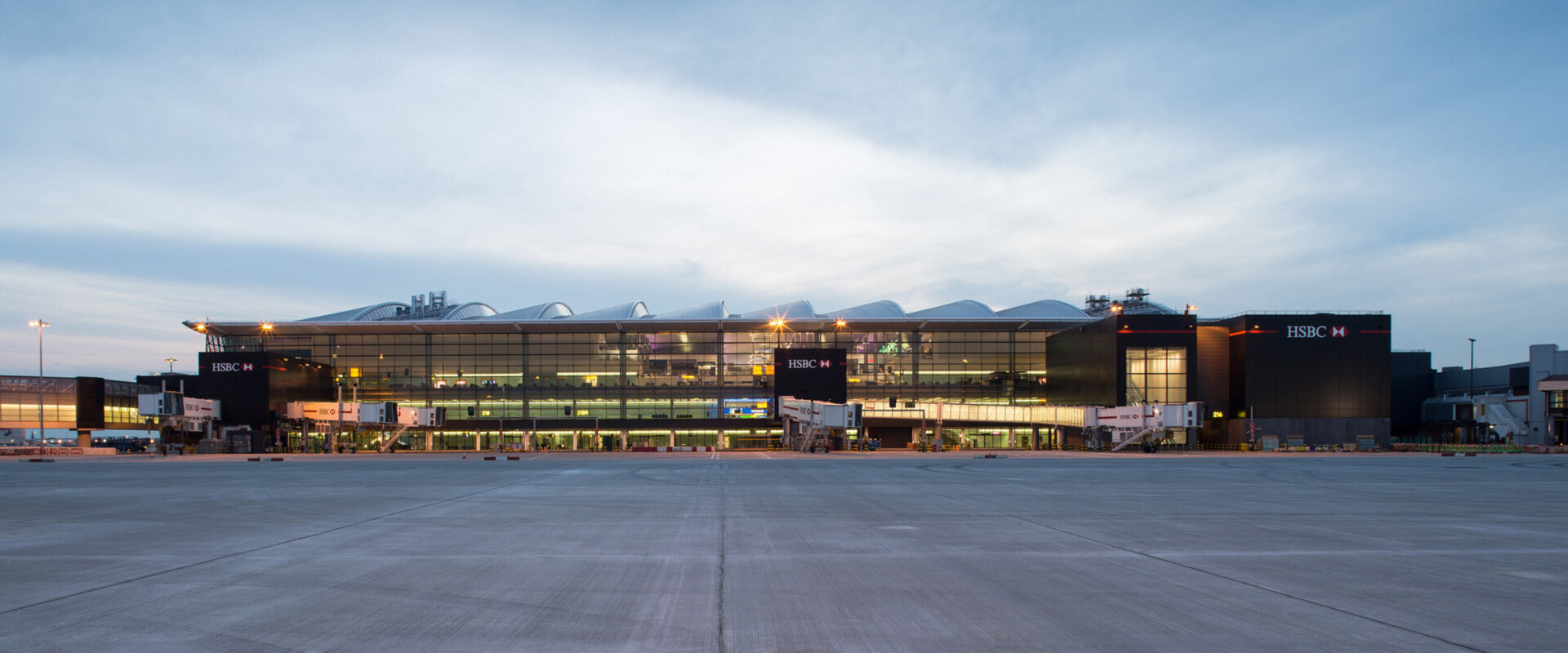 Heathrow International Airport – Terminal 2
London, United Kingdom. 2008-2014
Terminal 2, The Queen's Terminal, inaugurated by Her Majesty Queen Elizabeth II of England on June 23, 2014, became a landmark building in terms of energy efficiency. It's the world's first airport to obtain a BREEAM Excellent rating, thanks to a design conceived to reduce CO2 emissions by 40% through the combination and development of active and passive energy systems.
Approaching a construction method that minimizes the impact on the facilities and the adjacent urban environment has been achieved through innovative solutions based on modular systems and through a carefully design construction schedule. 
The Queen's Terminal is developed under a roof whose three large waves emphasize the three main parts of the process passengers go through flying: check-in, security control and boarding. In this way, function and form are completely integrated, helping the passenger to orientate themselves through the Terminal in an intuitive and natural way. 
The waves of the roof are tilted against each other, housing skylights in their intersections, all facing North, in order to allow an important inflow of natural light, while reducing solar radiation and contributing to save energy. 
Departing passengers will enjoy more than 215,300 sqft. of commercial area distributed in two floors, next to the boarding gates and offering excellent views of the flight field.
In addition, it has been chosen Best Airport Terminal in the World (Skytrax 2018) and a Green Design by Chicago Athenaeum has been obtained thanks to its sustainable design, which is added to a list of more than 26 international awards and nominations.
Place/Date: London, United Kingdom / 2008-2014
Client:

 

Hetco
Budget:

 

880 M £
Area:

 

2,368,000 sqft.
Architects:

luis vidal + architects

Consultants: 

CARMA / CG. Proyectos / Davis Langdon Schumann Smith / Euroestudios / Fhecor Ingenieros / Fractal / Gleeds / HOARE LEA / Immodo / Merebrook / O.T. Ferrovial Agroman / REEF Associates Ltd / Siemens-Van
Stage: Built
Team:

 

João Abreu – Raquel Albarrán – Patricia Allona – Alejandra Alonso – María Álvarez-Santullano – Mar Araujo – Paz Armenta – María Astiaso – Assier Aurrekoetxea – David Ávila – Laura Belmonte – Irene Capote – Eva Clark – Eva Couto – Marta Cumellas – Zelia Da Costa – Cristina Da Cotta – Chris Dawson – Sara del Piñal – Oscar Ignacio Encabo – David Fernández-Feito – José Luis Fernández-Moráis – Sonia Ferreras – Ana Belén Franco – Amparo Galván – Marta Gálvez – Emilio García – Magdalena García de Durango – Isabel Gil – Jaime Gimeno – Raúl Gómez – Florian Graumann – Nima Haghighatpour – Andrés Infantes – Carlos Jiménez – Itziar Lamy – Reyes León – Patricia Lozano – Ana Claudia Mantovani – Paloma Martín – Álvaro Martínez – Álvaro Mayoral – José Miguel Ibáñez – David López – Jugatx López Amurrio – Arturo López-Bachiller – Lourdes Moreno – Héctor Orden – David Palomares – José Parejo – Enrique Pérez – Sonia Pérez – David Pérez Escudero – Cecilia Piñeiro – Ángela Rodríguez – Arturo Romero – Patricia Rojas – Francisco Rojo – Santiago Sánchez – Manuel Sánchez de Ocaña – Francisco Sanjuan – Carlos Sanz – Beatriz Sendín – Teresa Serrano – Gentaro Shimada – Óscar Torrejón – Marcos Velasco – Luis Vidal – Aldana Zabala