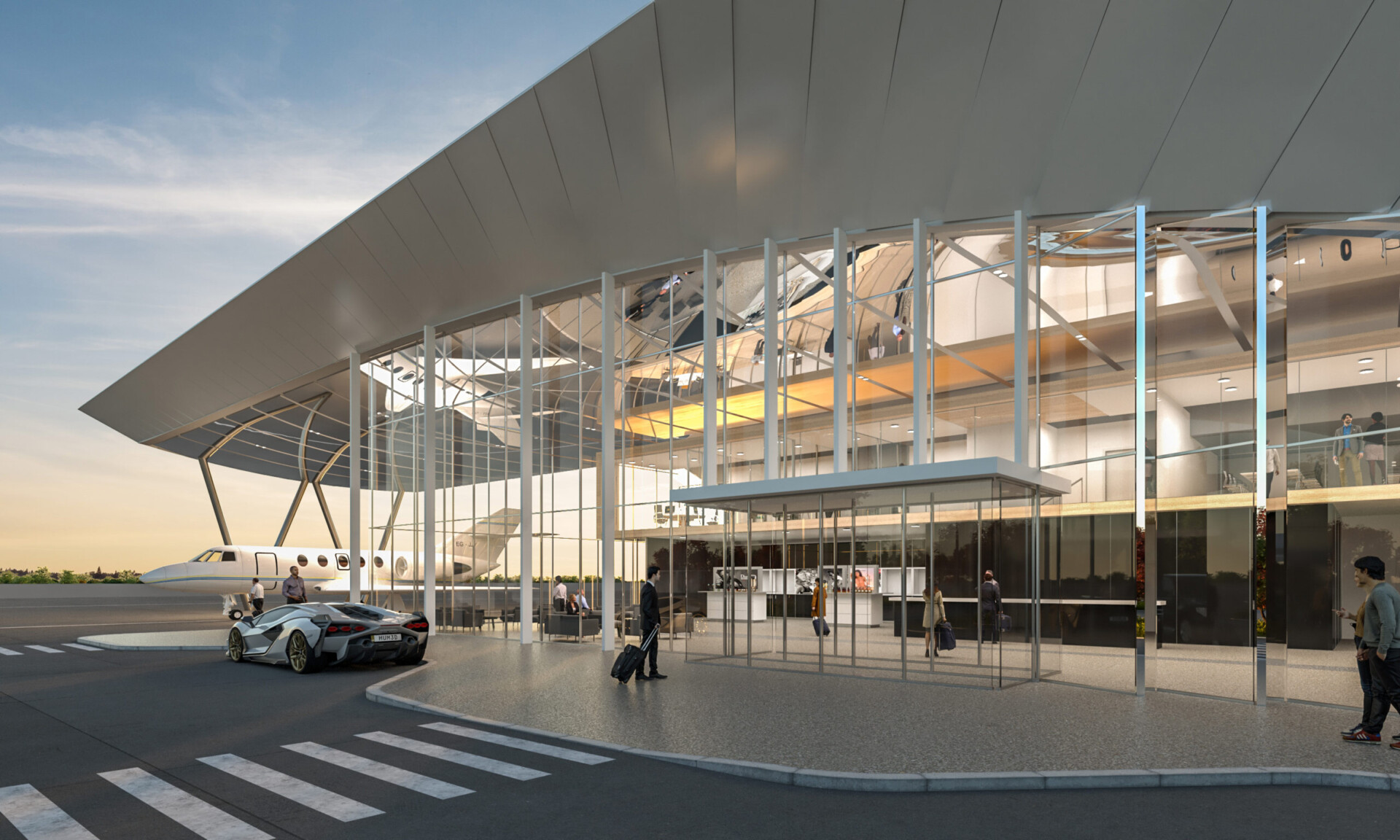 Fulton County Executive Airport New FBO Building
Atlanta, Georgia, USA. 2022
An Executive Airport or Fixed Base Operator (FBO) is a complex of airport buildings of various scales where the passenger experience is significantly different to that of the traditional, bigger airport terminals. It is neither a building, a terminal, nor a multifunctional complex. It is a brand new landscape. The envisioned project is a passenger-oriented and highly functional facility integrated within its environment, where nature is an asset. Both the terminal and the hangars can be specifically designed to make this experience memorable.
In order to achieve this differential value, the design aims at a strong "sense of place". It also enhances human scale, balancing the enclosure of this vast area with a design that is highly legible on a passenger scale. Taking advantage of the short sequence of time from the arrival to the moment of departure enriches passenger experience.
The passenger's intuitive wayfinding is targeted by opening views to the airside, enabling the passenger to directly access the apron. Together with close-up views of hangars and airplanes, a passenger experience comparable to the pioneering aviation era is created.
Designed as a sequence of four curved roofs evoking the nearby rolling hills, the facility accommodates three hangars, a terminal building, three office buildings, a flight school, a maintenance and garage building, a fuel farm, two parking areas, and a new apron area. Coherence and consistency are thus created by the connection of the passenger terminal to the hangars, and the visual connection of all buildings to the landside and their natural surroundings, thus blending the facility with the existing landscape.
Place/Date: Atlanta, Georgia, USA / 2022
Client:

 

Brakkam Aviation Managment

Architects:

 luis vidal + architects

Area:

 

547,900 sq. ft.

Budget: 

98.4 M USD

Stage:

 Conceptual design

Team:

 Álvar Barrera – Trinidad Antunovic – Virginia Bermell-Scorcia – Nicolás Orellana – Krzysztof Przybylo – Pierluca Roccheggiani – Patricia Rojas – Óscar Torrejón – Luis Vidal