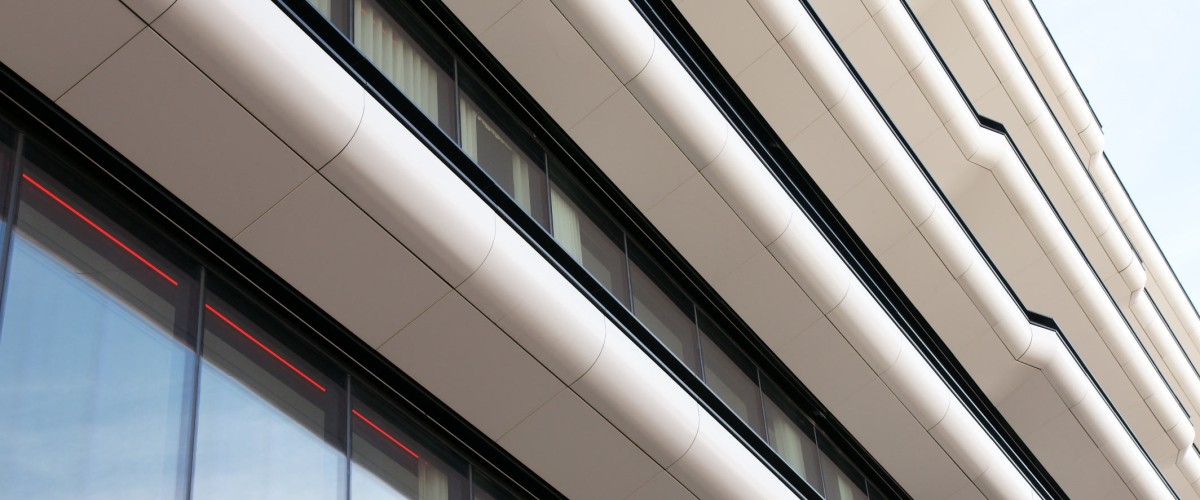 With this project, the aim has been to restore the referential identity Eloy Gonzalo 10 (Madrid) once had, turning it into a structure suited to its time and the needs of today's society. Despite its unbeatable location – in a premium commercial area of Madrid – and its size (six floors exclusively used for offices, a ground floor for retail space, and three parking floors), the property was suffering from two significant problems: an outdated image and the lack of natural light, due the opacity of the existing façade.
The architectural intervention of luis vidal + architects has been based on three pillars: a study of the building's floor plan to improve its functionality by modularity, an analysis of "open" façade alternatives, and a strategy of building permits that allowed everything to be feasible within the foreseen deadlines.
The new façade comprises metal trays as an extension of the floors and large glass panels from floor to ceiling. Through this, it has been possible to radically change the building's image, to adapt the envelope to current thermal and acoustic requirements and to significantly improve the natural lighting of the interior.
Thanks to the modulation of the entire project, it has been possible to compartmentalize the interiors in a logical way and provide the space with optimal flexibility, which is necessary to stand out in the real estate market.
Place/Date: Madrid, Spain / 2014-2015
Client:

 

Gmp

Architects:

 luis vidal + architects

Consultants:

 OH / In-plania / Eurosca / Monopol / Bovis / Arup
Area:

 

194,800 sq. ft.

Budget:

 1.7 M €

Stage:

 

Built

Sustainability:

 

LEED Gold Certification

Team:

 Andoni Arrizabalaga – María Astiaso – Marta Cumellas – Carlos González – Jugatx López Amurrio – Carlos Peña – Patricia Rojas – Irene Rojo de las Heras – Gentaro Shimada – Javier Torrado – Óscar Torrejón – Luis Vidal