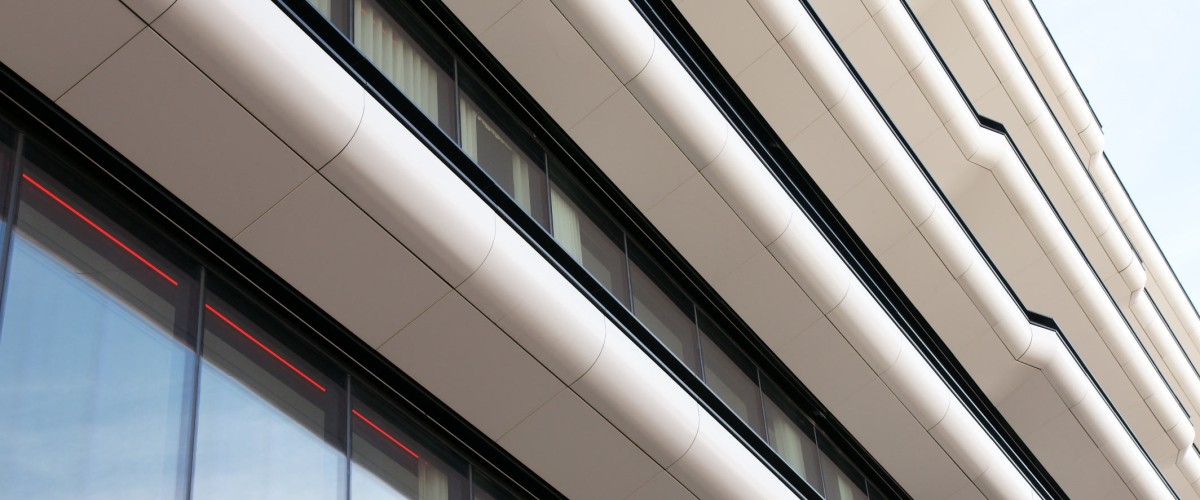 Eloy Gonzalo 10 is a building with six floors of office space, a ground floor for commercial premises and three floors below ground for parking, and recently acquired by GMP. Despite its unbeatable location in the Chamberí neighborhood, it posed two major problems: the totally outdated image and the lack of permeability of natural light of the existing facade.
As an added difficulty, the owner wanted the rehabilitated offices to be on the market for lease just three months after the purchase.
The intervention of luis vidal + architects is based on three pillars: an analysis of the floor plan in order to set up a module to improve its functionality; a study of alternatives for a "more open" façade; and a strategy for planning permission that allowed that all the works to be viable within the available timeframes.
The new façade is formed by metallic "trays" in the extensions of the floors, lacquered in prismatic paint, and large panes of glass that go from floor to ceiling on each floor. With the combination of both, it is possible to radically change the image, adapt the enclosure to current thermal and acoustic requirements, and greatly improve the natural lighting of the interior.
Thanks to the modulation of the entire project (interior/exterior), the office spaces can be partitioned in a logical way using standard market elements.
The works have been carefully planned in two phases, with two planning applications running in parallel, to allow the commissioning of the building in record time, and the replacement of the outer skin of the façade with the tenants "in situ".
Work has also been done on changing of image of the image of the building lobby and the exterior of the ground floor.

Place/Date: Madrid, Spain / 2014-2016
Client:

 

Gmp

Budget:

1,7 M €

Superficie:

 

195,000 sqft.

Architects:

 luis vidal + architects

Consultants:

Arup / In-plania

Stage:

 

Built

Sustainability:

 

LEED Gold

Team:

 Andoni Arrizabalaga – María Astiaso – Marta Cumellas – Carlos González – Jugatx López Amurrio – Carlos Peña – Irene Rojo de las Heras – Gentaro Shimada – Javier Torrado – Óscar Torrejón – Luis Vidal