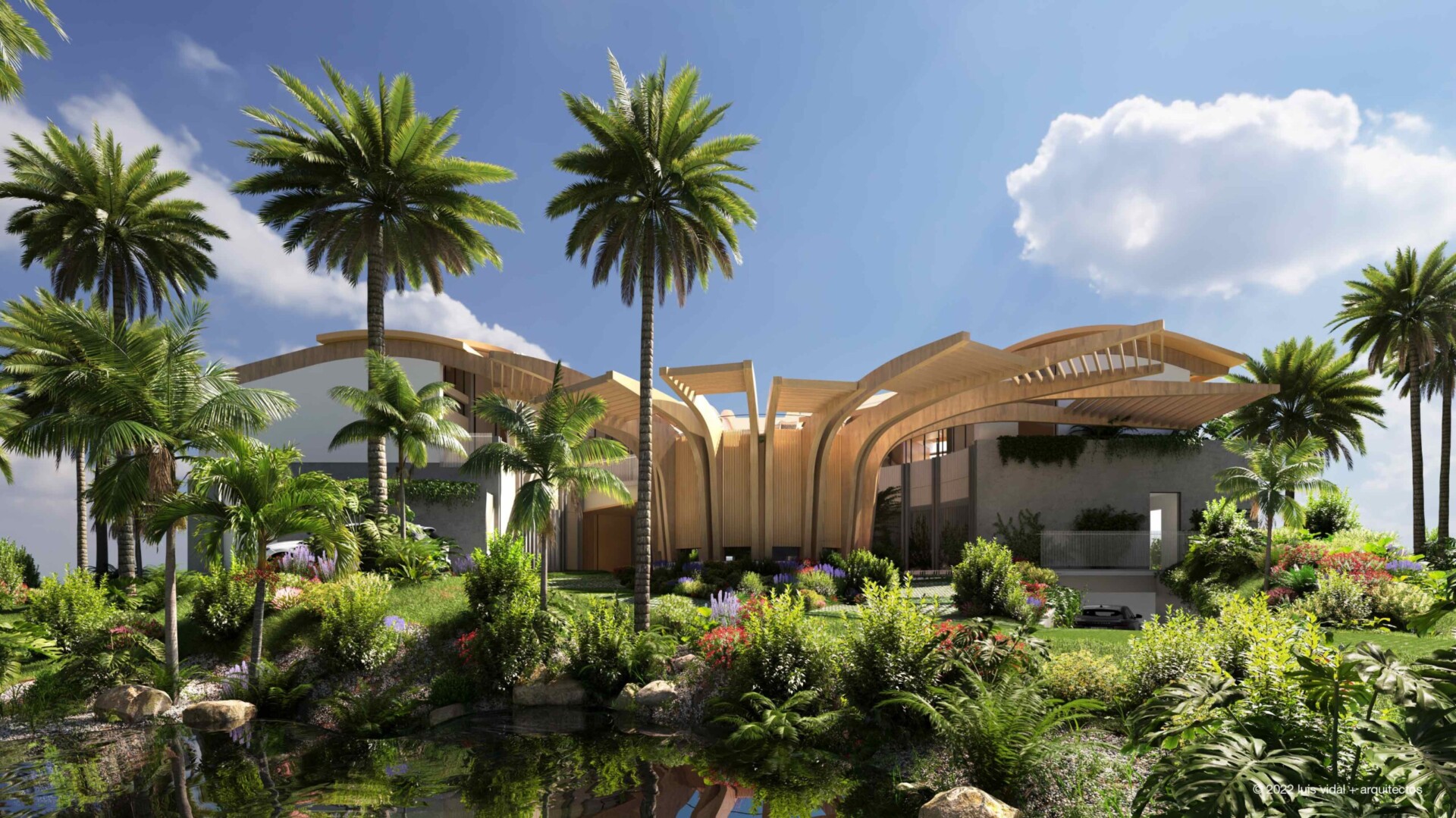 Urbanización Casa de Campo, La Romana, Dominican Republic. 2022-Ongoing
The main hallmarks of this residence, with its 360º view across the Dye Fore Golf Course and the town of Altos de Chavón, include its integration with the natural environment and an enveloping roof, unifying the complex.
Following the guiding principles of a subtle and friendly connection between nature and architecture, the project comes to life around a reading room surrounded by a tropical garden, with the two-story residence and basement leading from it.
Volumetrically, it consists of one floor, radially fragmented to distribute and divide the different living and service areas. This programmatic strategy can be seen in the spaces and solids created by the interior volumes that seem to flow from the reading room itself, the roof of which also houses a sky observatory.
The roof structure simulating a large palm tree, built in Glulam wood, consists of a permeable pergola that gives shade and extends into the villa, adjusting its height to become closer and more homely wherever necessary.
The garden connects to its surroundings, hosting only plants native to the island. Nature merges with non-natural elements, and the outdoor areas are filled with vegetation and integrated with the house.
Place/Date: Urbanización Casa de Campo, La Romana, Dominican Republic / 2022-Ongoing

Architects:

 luis vidal + architects

Area:

 

27,300 sq. ft. (12,270 sq. ft. built)

Stage:

 

Under development

Team:

 Antonio Albertos – Beatriz Almeida – Sabina Aparicio – Ana Argüelles – Juan Bueno – Berta Cabañas – Gerry Gine – Guarionex – Pablo Marín – A. Muñoz – Eduardo Navarro – Johanna Rodríguez – Patricia Rojas – Leslie Salomón – Cristina Sánchez – Fernando Sánchez – Óscar Torrejón – Marcos Velasco – Luis Vidal – Andrés Zaglul