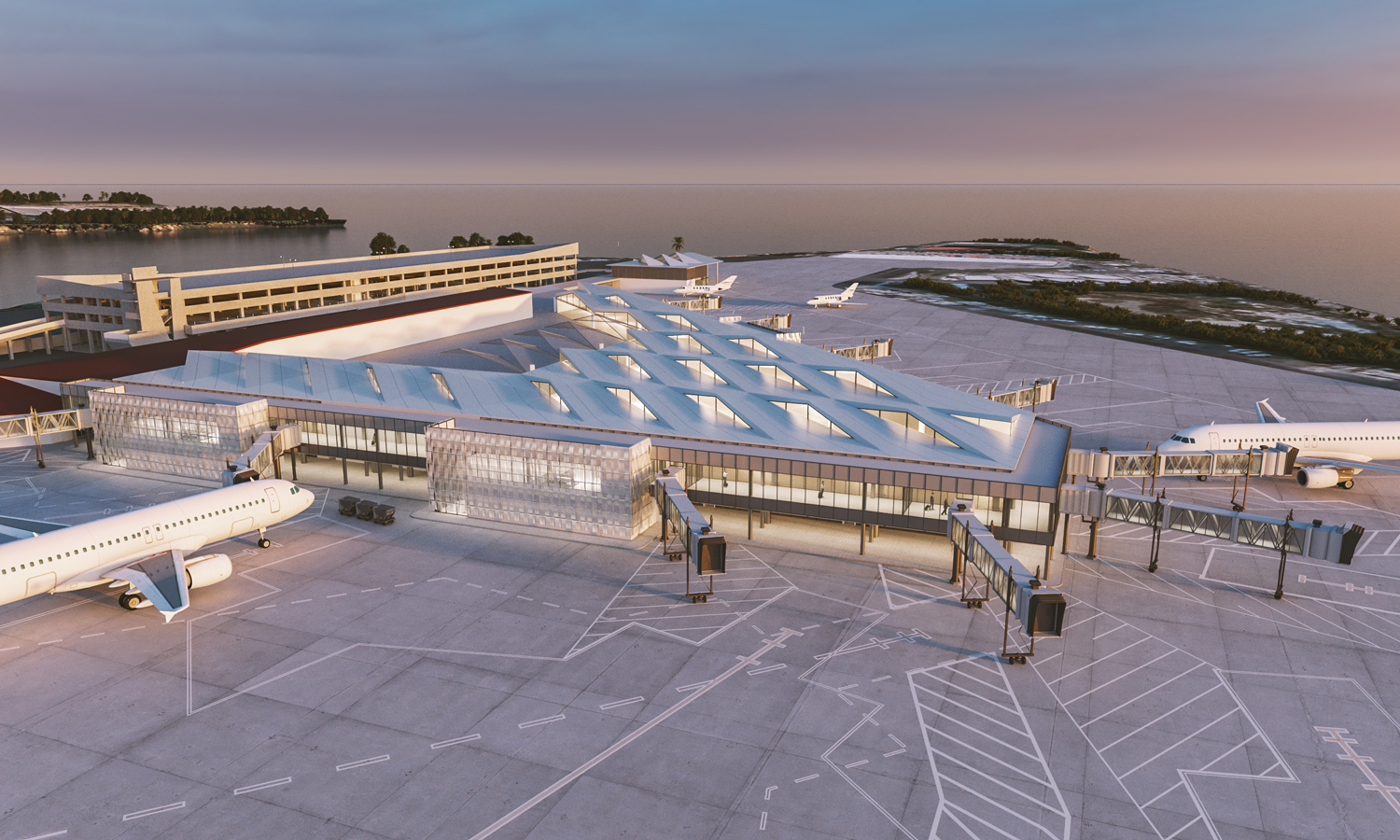 Cyril E. King International Airport Expansion
Saint Thomas, Virgin Islands, USA. 2021-Ongoing
The modernization of the existing terminal building at Cyril E. King Airport adds a second level, segregating the arrival and departure flows, and significantly improving the passenger experience, concessions offer and airport revenues.
A glazed bridge parallel to the building connects the existing one-level terminal with the new terminal through two new Vertical Circulation Cores (VCC). Moreover, four new jet bridges are connected to the second-level corridor, allowing passengers to board the planes directly along the northern side of the apron.
This space will work as a sterile corridor, keeping the departure and arrival flows separated as per the requirements of Customs & Border Protection (CBP) for the U.S. Virgin Islands territory.
A separate pavilion on the terminal's southern side, devoted to USVI inter-island flights, will allow the refurbishment of a strategic section of the existing first level, including the construction of a new BHS system. In a later phase, this wing will be connected to the second level in order to host international departures and arrivals.
The new departure hall offers all passengers stunning views of the sea and the island's lush landscape upon completion of the second level. Moreover, a color study has been conducted to enhance the sense of place in the new terminal building and allows the differentiation of the external vertical core-cladding panels and roof skylights inspired by the local vegetation and the Atlantic Ocean.
Place/Date: Saint Thomas, Virgin Islands, USA / 2021-Ongoing
Client:

 

Virgin Islands Port Authority (VIPA)

Architecs:

 luis vidal + architects in association with 

Kimley-Horn, TY-Lin, ARUP and Conspectus
Area:

 

Phase 1: 21,800 sq. ft. / Phase 2: 18,500 sq. ft. / Phase 3: 260,000 sq. ft.
Stage: Under development
Team: Trinidad Antunovic – Alvar Barrera – Louis Edwards – Agustina Giudici – Ricardo González – Fernando Moiño – Roberto Moraga – Sara Moreno – Pierluca Rocchegianni – Patricia Rojas – Óscar Torrejón – Luis Vidal