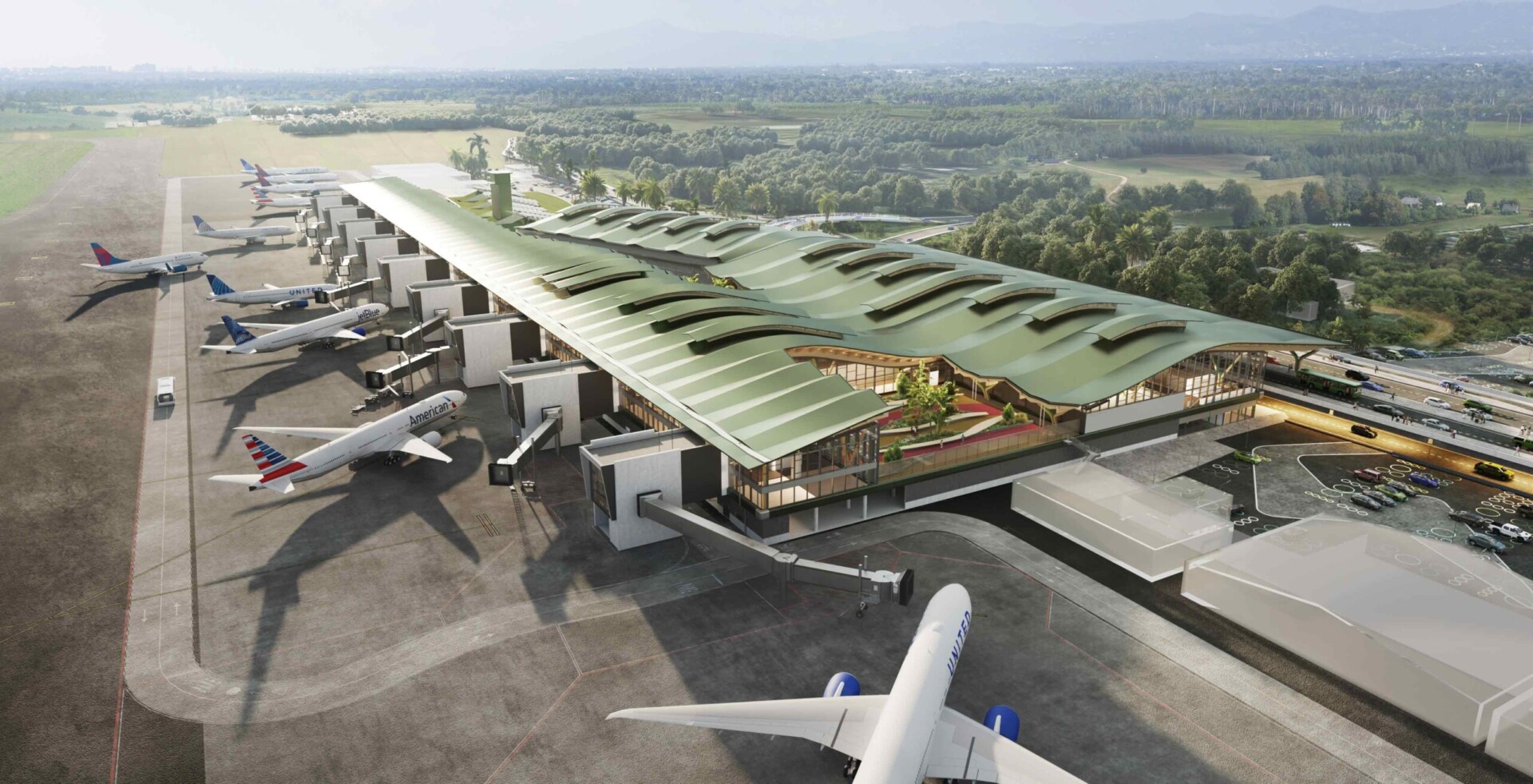 Cibao International Airport
Santiago de los Caballeros, Dominican Republic. 2021-Ongoing
Cibao International Airport is undergoing a pioneering expansion, bringing with it a new terminal equipped with the latest airport security technology, and the transformation of the current building into a hybrid mixed-use space which will host a raised parking area connected to the new terminal, the airport offices and a wide commercial, gastronomic, hotel and business offering will complement the services offered by the airport itself.
The new terminal will be equipped with 9 contact stands, designed on two levels to segregate the flow of departures from that of arrivals, thus optimizing the processes. Over 200 Ha. of new roads and 150,700 sqft. of green areas are also to be incorporated. An elevated and independent access road will lead to the check-in area on level 2, while another access road will connect everything to the pre-existing building and the arrivals hall on level 1.
Inspired by the linearity of the harvest fields of bananas, tobacco and coffee, boundaries are blurred, and a linear and continuous landscape is being created throughout the terminal; the new design blending with the curves of the surroundings, offering an interior-exterior continuity that brings the gardens inside, emulating the vegetation shade through the materials of the interior ceilings and more than 4,000 tons of timber making up the roofing structure.
Place/Date: Santiago de los Caballeros, Dominican Republic / 2021-Ongoing
Client:

 

Aeropuerto Internacional del Cibao
Area:

 

613,500 sqft.
Architects:

luis vidal + architects

Consultants:

IDOM / Setec / Arcadis / VMB
Stage: Under construction
Team:

 

Beatriz Almeida – Carlos Albi – Antonio Albertos – Guillermo Álvarez – Nelson Aquino – José Benito Fernández – Carmen Bisono – Almudena Bustos – Nuria Campillo – Fernando Callejón – Louis Edwards – Tania Estay – Sandra González – Victoria González-Aller – Jesús Gallego – Pablo Marín – Rafael Marmolejos – Sara Moreno – Conchita Millán – Diego Miranda – Alejandro Nieto – Eduardo Prida – Johanna Rodríguez – Francisco Rojo – Néstor Rouyet – Claudia Sabán – Leslie Salomón –Cristina Sánchez – Manuel Sánchez – Marcos Velasco – Enrique Sánchez – Javier Torrecilla – Francisco Sanjuán – Ana Taboada – Óscar Torrejón – Luis Vidal