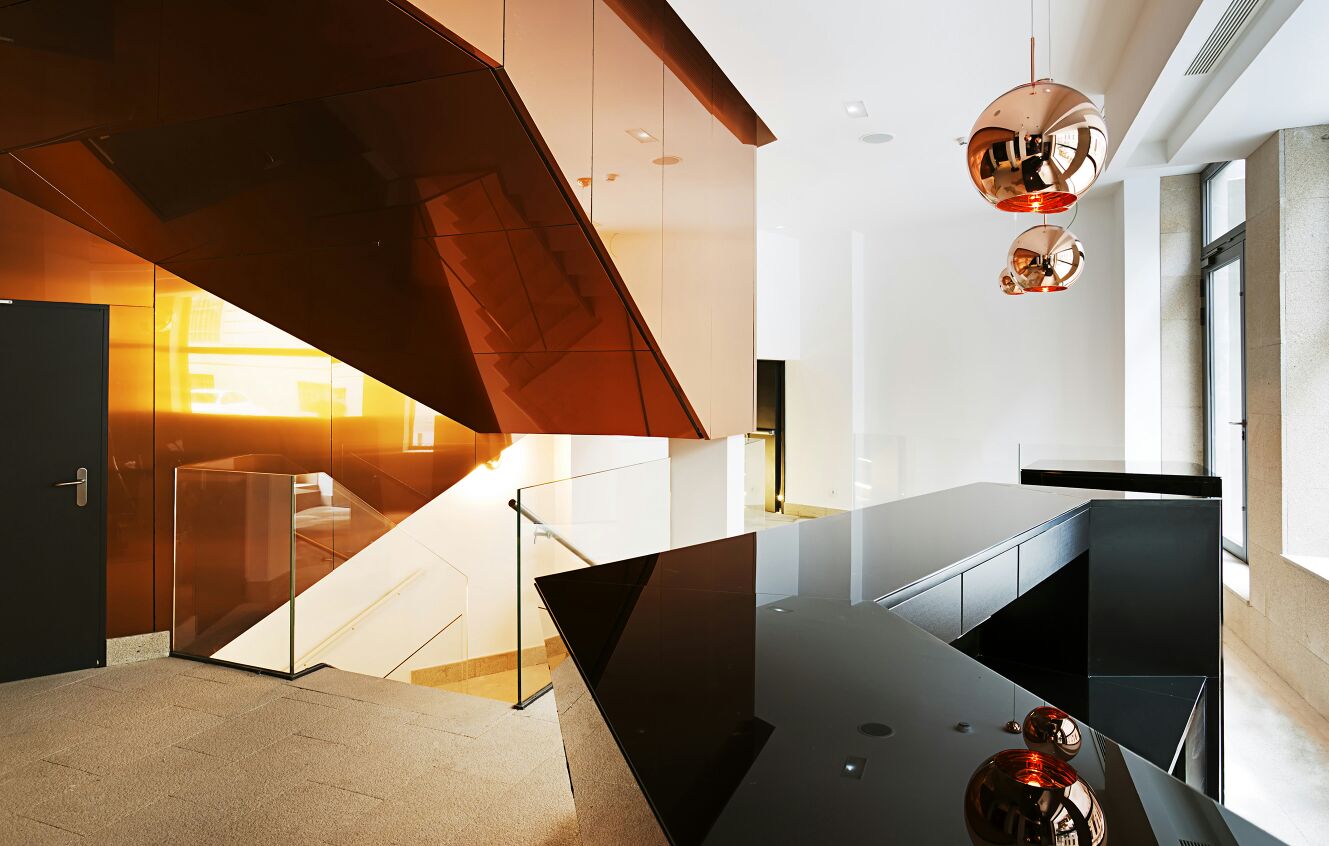 Our strategic approach to this project focuses on the hotel's final user and the key moments of his experience to generate an appropriate atmosphere in each moment, creating calm, without stress, surprising and high-quality spaces. For this hotel experience, we have created an appealing transition between the city and the personal realm, between the trip and the leisure time. We are establishing three critical levels of approach in a zoom-in style.
1. THE LOCATION within the city. Being the location one of the values of the project, in the most exciting, dynamic, vibrant and active area of Madrid.
2. THE ACCESS is conceived as a transition space between the city and the hotel. The challenge is to transform the access from Montera into an exciting area, causing an impact on the customer's first perception. The surprise effect is guaranteed.
3. THE HOTEL:
• The LOBBY, a space with a different atmosphere where the game of reflections evokes fragments of the city. Two sculptural pieces, the reception desk and the stairs, are this space's main elements.
• THE COFFEE AREA, located in the basement, is connected to the ground floor through openings in the slab that allow natural light in and a visual connection between floors.
• BEDROOMS, we add value through CUSTOMIZATION. This way, each room will be different, a white canvas that changes color through the lighting.
4. THE TERRACE, Along with the location, with stunning views of the Puerta del Sol, is one of the great values of the hotel.
Place/Date: Madrid, Spain / 2015-2016
Client:

 

B&B Hotels

Architects:

 luis vidal + architects

Area:

 

56,000 sq. ft.

Budget:

500,000 €

Stage:

 Built

Team:

Andoni Arrizabalaga – Almudena Bustos – Marta Cumellas – Beatriz Eyries – Zainab Ibrahim – Patricia Quillez – Patricia Rojas – Óscar Torrejón – Luis Vidal