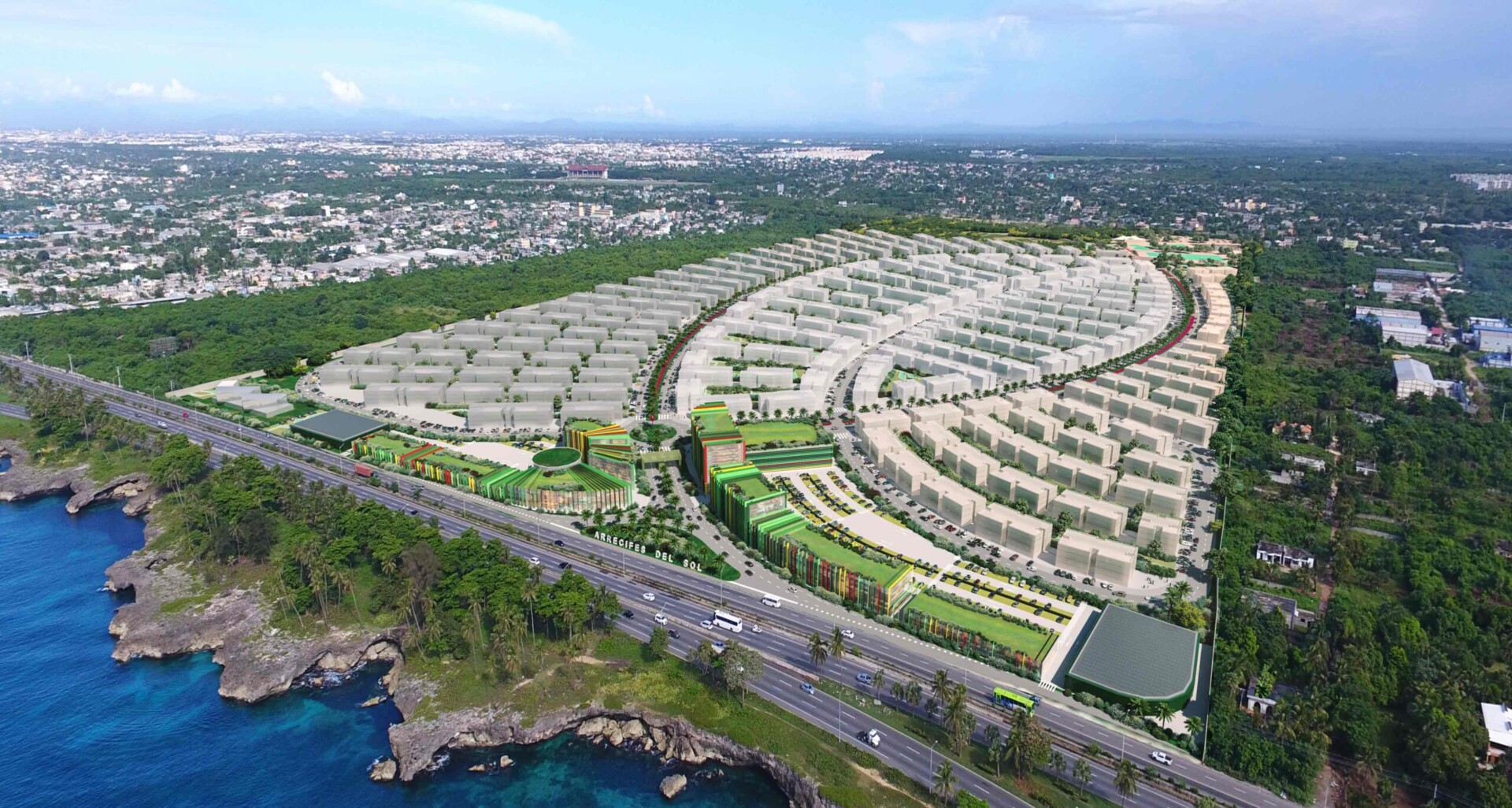 Santo Domingo, Dominican Republic. 2021-Ongoing
Located in East Santo Domingo, Arrecifes del Sol is a sustainable development project where nature and urban areas are connected through green boulevards that maximize privacy, security, quality and improvement of the user experience. Arrecifes del Sol hosts three main uses: a Natural Area in the north, a Residential use at its heart, and a Commercial and Institutional use in the south, as a gateway to the new development.
The residential area, with over 6,000 housing units and 8,000 parking spaces, will be the communication axis for the two focal points of activity at both ends. With more than 120,000 m2 and a total of three caves, the natural area located in the north will be preserved and revitalized, turning it into a self-sufficient meeting point and leisure area, complementing an economic housing option that is planned as a new model, allowing for a lower occupation of the terrain, in favour of freeing up space. The design of the parking lots seeks to reduce the asphalt surface, introducing permeable floor and colour for user orientation.
Occupying nearly 80,000 m2, the commercial area aims to become an attraction of technological and representative facades for advertising; and landscaped roofs, partially walkable for leisure and gastronomy, as viewpoints over the Caribbean Sea. Moreover, photovoltaic pergolas will be installed to produce its own energy.
Place/Date: Santo Domingo, Dominican Republic / 2021-Ongoing
Client:

 

CBS developments
Area:

 

66,5 Ha

Architects:

 luis vidal + architects

Stage:

 

Under development

Team:

 

Carmen Andújar – Alejandro Nieto – Fernando Sánchez – Cristina Sánchez – Javier Torrecilla – Óscar Torrejón – Luis Vidal