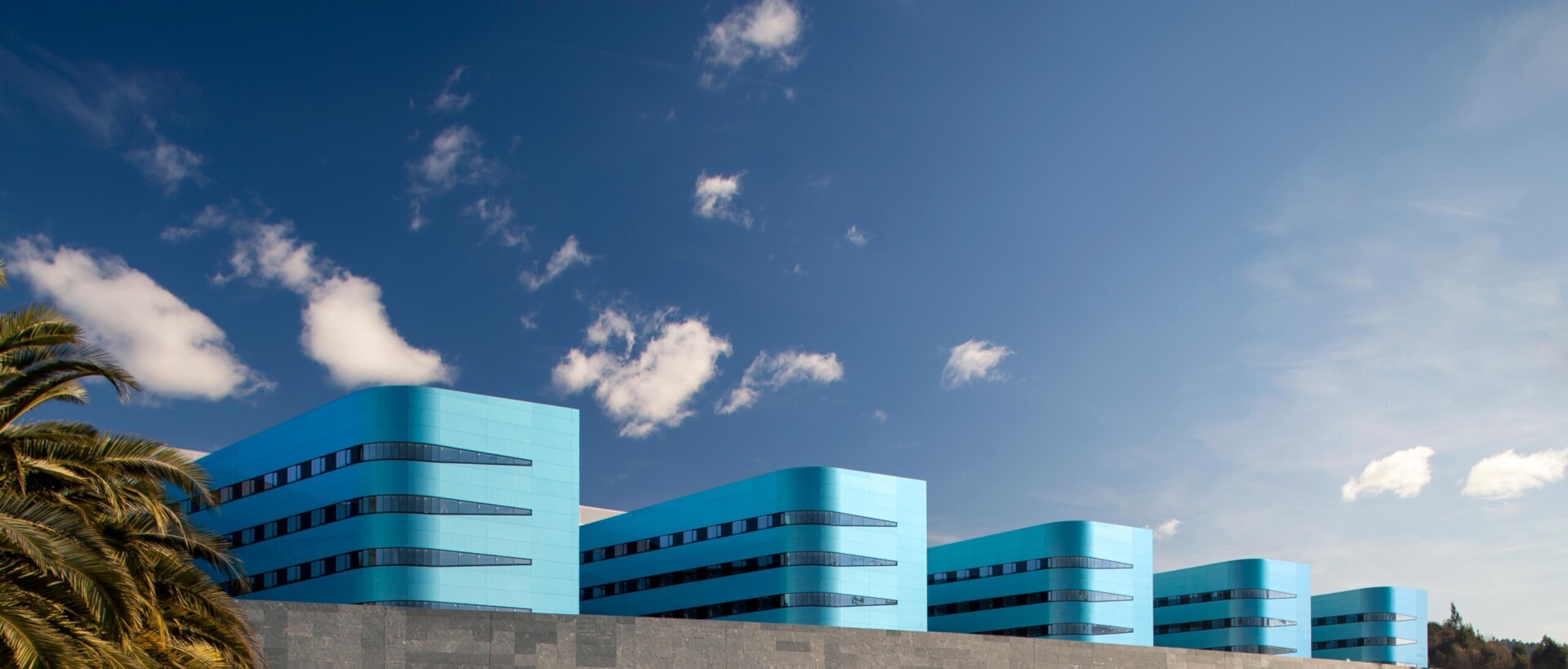 Álvaro Cunqueiro Hospital
The Álvaro Cunqueiro Hospital in the city of Vigo (Galicia, Spain) was designed by luis vidal + architects, and is one of the largest hospitals in Europe, as well as one of the most technologically advanced in the world. Its nearly 2,050,000 sqft. are designed with the criteria of flexibility, comfort and optimal modularity to be a building for the future, technological and cutting-edge.
Created with the economic, social, and environmental responsibility values present in all the projects of luis vidal + architects, the Álvaro Cunqueiro Hospital is the first medical building in Spain recognized with the international BREEAM sustainability certification. In the design, the study of the environment has been key, since in spite of its large size it is integrated into its scope through the staggering and fragmentation of the volumes on the slope of the mountain on which it sits, generating accesses and specialized spaces and making this factor a virtue. The sequences of the landscape from the sea (external consultations with their blue colours and architecture of watery patios) to the mountain (technical block with green colours and natural materials) are transferred to this building-city with two connection spaces: the "spine" or sheet related to the dock-port as a clearly technological element and admissions "candles" connected to it.
The circulation scheme is structured by the central spine and the specialized vertical cores that place each service in its optimal location. Organization of the services groups the outpatient clinics at one end and the internal ones at the other. The result is a building highlighted by the following milestones: constructive and functional flexibility; its human scale as it takes into account the needs of the patients, relatives and healthcare staff; an ordering of clear and direct flows of circulation, without residual spaces and with shorter routes, that enhance the intuitive orientation and reduce patient stress; an excellent use of natural light; the continuous presence of vegetation with therapeutic gardens; the use of colour, warm and comfortable materials, and the careful acoustics.
One of its technological advances is the use of prismatic paint which is used for the first time to cover the facade of a hospital. This paint is characterized by its extreme durability without losing its colour intensity, as well as its capacity to change in tone depending on the light and the viewing angle.
The Álvaro Cunqueiro Hospital has won the International Award for Best Healthcare Project of the Future from the International Academy of Design and Health in Kuala Lumpur. The hospital has been designed under the parameters of a new typology: the "Airport-hospital" concept, which was developed by luis vidal + architects, a new generation of buildings that includes Can Misses in Ibiza and Infanta Leonor in Madrid.
Referential Design: Valode & Pistre
Place/Date: Vigo, Spain / 2011-2015
Client:

 

Ute Novo Hospital de Vigo / JV Novo Hospital de Vigo
Budget:

 

238 M €
Area: 3,200,000 sqft. (2,048,000 sqft. hospital + 1,152,000 sqft. car park)
Architects:

luis vidal + architects / Vicente Fernández-Couto / Jacobo Rodríguez-Losada

Consultants:

Idom Ingeniería

Stage: Built
Team:

 

João Abreu – Javier Aguirre – Patricia Allona – Paz Armenta – María Astiaso – David Ávila – Nick Axel – Tatiana Blas – Eva Couto – Marta Cumellas – Zelia Da Costa – Alba del Castillo – José Benito Fernández – David Fernández-Feito – David Fernández Llompart – José Luis Fernández-Moráis – Susanne Forner – Magdalena García de Durango – Isabel Gil – Carlos González – Carolina Hernández – Laura Herreros – Álvaro Mayoral – José Miguel Ibáñez – Julio Isidro Lozano – Humberto Martínez – Lourdes Moreno – Héctor Orden – Javier Palacios – José Parejo – Carlos Peña – Pedro Portillo – Giovanni Pulcioni – Javiera Riquelme – Martín Rivas – Patricia Rojas – Francisco Rojo – Irene Rojo – Santiago Sánchez – Manuel Sánchez de Ocaña – Francisco Sanjuan – Javier Torrado – Óscar Torrejón – Luis Vidal