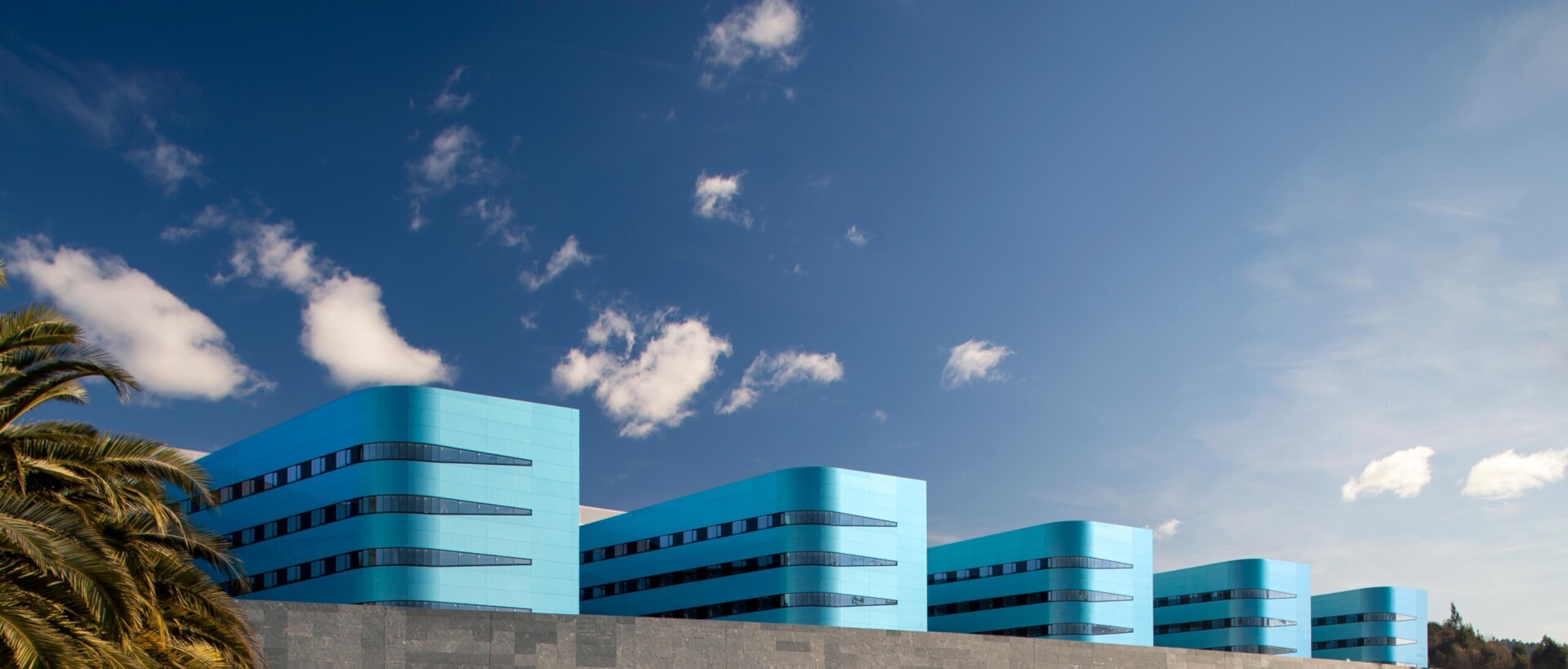 Álvaro Cunqueiro Hospital
Designed to serve as the primary health infrastructure of the province, creating a node of knowledge, innovation and health. The architectural design solves the challenge of merging two existing public infrastructures into a new public-private building.
It is one of the largest hospitals in Europe. It is conceived from the patient's well-being point of view: curative architecture based on sunlit spaces and therapeutic gardens as elements to diminish stress.
The building is on a hillside just outside the city of Vigo and takes advantage of the slope to gain a privileged position in the field, integrating with the landscape. A clear division of the hospital's program is created. In the lower part, there is a stone base hosting the outpatient area, above which there is a large garden and public space with all main accesses to the Hospital. The six hospitalization blocks seem to be flying over this base, allowing great views of both the valley and the garden for the inpatients. The inpatient area for diagnosis and treatment is on the highest floor, with specialized and emergency access.
The element connecting the whole complex is a large glass volume that hosts all vertical and horizontal communications for medical staff, patients and visitors, as well as facilities and supplies.
Referential Design: Valode & Pistre.
Place/Date: Vigo, Spain / 2011-2015
Client:

 

JV Novo Hospital de Vigo

Architects:

 luis vidal + architects in association with Vicente Fernández-Couto and Jacobo Rodríguez-Losada

Consultants:

 TRN / CPS / Fhecor Ingenieros Consultores / Aguilera
Area: 3,200,000 sq. ft. (2,048,000 sq. ft. hospital + 1,152,000 sq. ft. car park)

Budget:

 

238 M €
Stage: Built
Team:

 

João Abreu – Javier Aguirre – Patricia Allona – Paz Armenta – María Astiaso – David Ávila – Nick Axel – Tatiana Blas – Eva Couto – Marta Cumellas – Zelia Da Costa – Alba del Castillo – José Benito Fernández – David Fernández-Feito – David Fernández Llompart – José Luis Fernández-Moráis – Susanne Forner – Magdalena García de Durango – Isabel Gil – Carlos González – Carolina Hernández – Laura Herreros – Álvaro Mayoral – José Miguel Ibáñez – Julio Isidro Lozano – Humberto Martínez – Lourdes Moreno – Héctor Orden – Javier Palacios – José Parejo – Carlos Peña – Pedro Portillo – Giovanni Pulcioni – Javiera Riquelme – Martín Rivas – Patricia Rojas – Francisco Rojo – Irene Rojo – Santiago Sánchez – Manuel Sánchez de Ocaña – Francisco Sanjuan – Javier Torrado – Óscar Torrejón – Luis Vidal