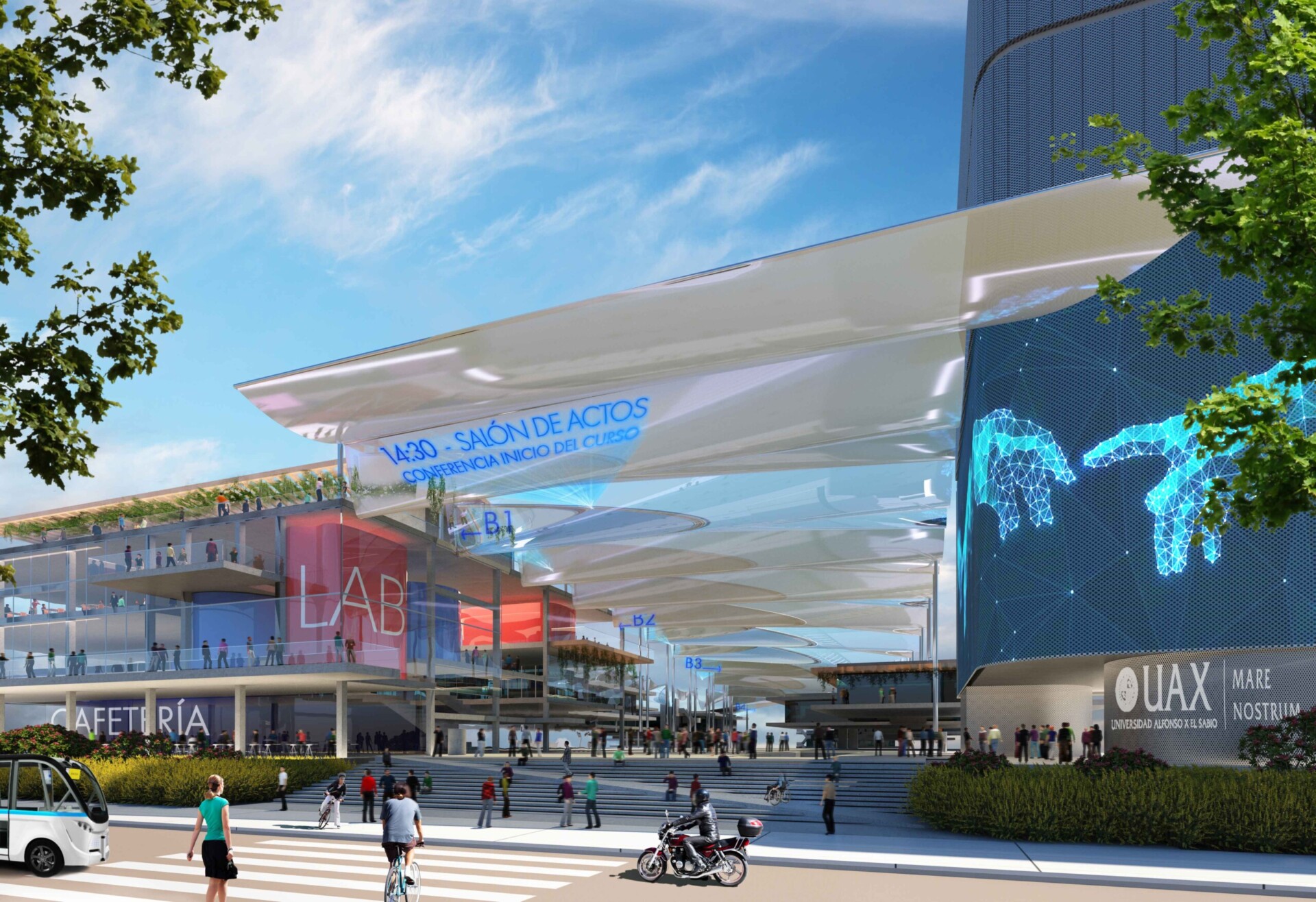 UAX Mare Nostrum University Campus
Malaga, Spain. 2021-Ongoing
The new UAX campus in Malaga aims to become an icon, a meeting point for the community and a model of mutual exchange with the environment. Located in a constantly developing area the complex not only takes inspiration from the surrounding landscape but also contributes programmatic features to the city.
The design favours a flexible educational model of interconnection between the citizen and the city, as well as between students and faculty; a model for the university of the future based on research into specific user needs.
By means of a natural system that leaves behind physical barriers, a gradation is proposed from the exterior, which looks almost opaque, to a permeable and luminous interior. On a macro scale, a large central axis connects two urban landmarks, freeing up a series of public spaces or squares around which the main volumes are organized. On an interior scale, each of these volumes has large, high atriums, which serve as meeting points for students and teachers, and are accessed through covered patios. This gradient space makes the program more flexible and allows for an exchange of uses between indoors and outdoors. The whole system ensures the possibility of future growth.
In addition, through a rigorous study of sunlight with specialized software, a strategic shading element has been designed to accompany the volumes at different heights, reducing direct solar incidence by up to 60%, in a quest for energy efficiency. This attitude positions the campus as a candidate for the first LEED Zero certification of its kind.
Place/Date: Malaga, Spain / 2021-Ongoing
Client: Universidad Alfonso X el Sabio (UAX)

Architects:

 luis vidal + architects

Area: 297,000 sq. ft.

Budget:

 38 M €

Stage:

 Under development

Team:

 Antonio Albertos – Carmen Andujar – Fernando Bello – Carmen Bisono – Almudena Bustos – Nuria Campillo – Álvaro Ferrer – Victoria González-Aller – Jugatx López – Geovanna Prado – Enrique Pérez – Patricia Rojas – Claudia Sabán – José Sánchez – Gentaro Shimada – Javier Torrecilla – Marcos Velasco – Oscar Torrejón – Luis Vidal