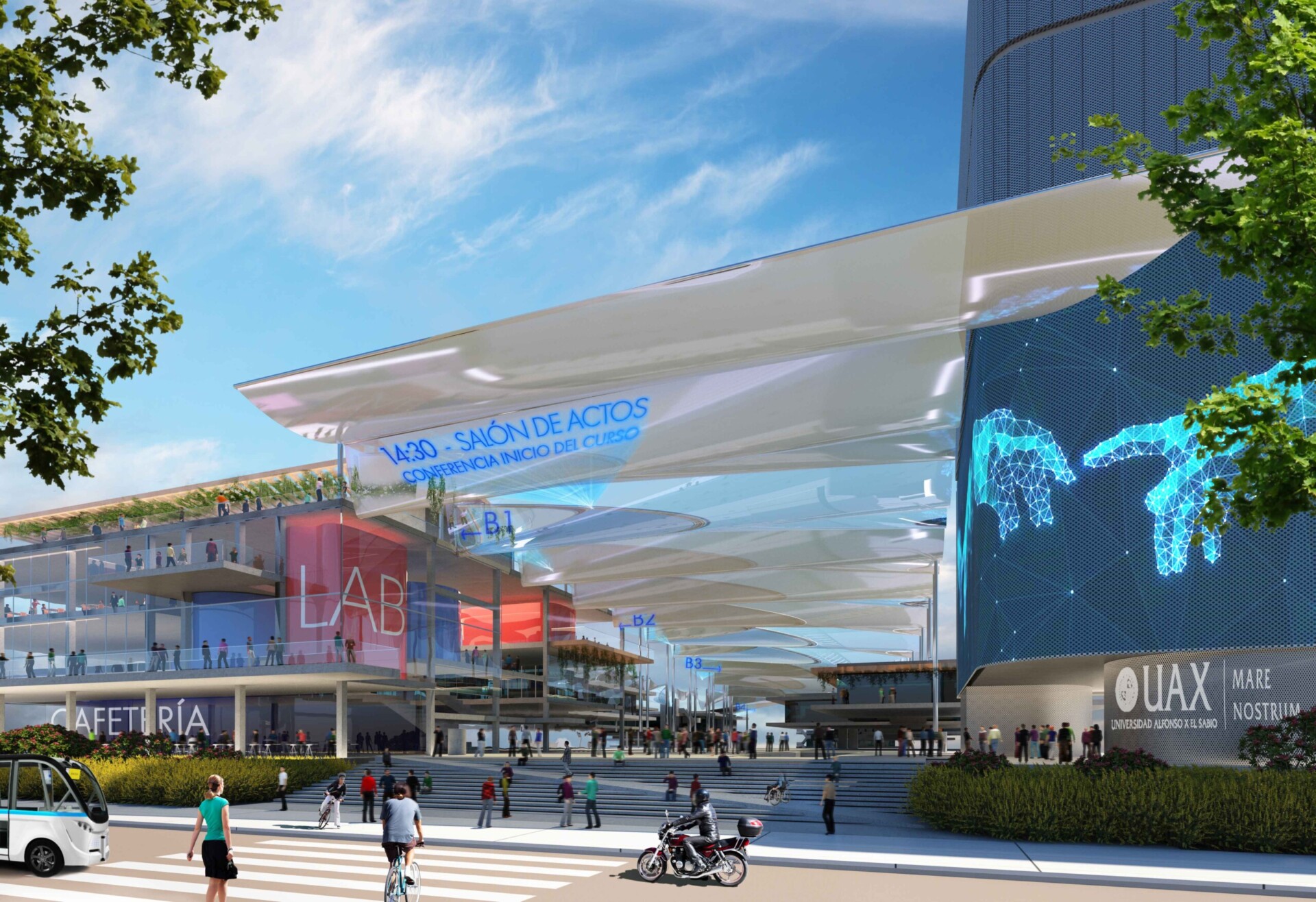 Malaga, Spain. 2021-Ongoing
Alfonso X el Sabio Mare Nostrum University has the opportunity to lead the change towards a new generation of university campuses ready to connect talent and knowledge from anywhere in the world, putting together the best of two spaces: architectural innovation and new models for university teaching.
All with sustainability and technology. The different analyses of the site within an urban context allow us to establish the main principles that guide our architectural proposal. On one hand, it reinforces the urban identity of the main avenue, which boasts significant commercial activity. The proposal aims to densify the north part of the site with general uses to generate a point of attraction both at the campus level and within the broader neighbourhood. On the other hand, the situation of the site border offers the possibility of great open views to both the sea and the Guadalhorce Park, which opens up the campus, ensuring the maximum number of spaces to enjoy these views. It also turns the campus into a visual reference for the city.
The Campus is organized along an axis, surrounded by spaces of meeting and exchange, structuring itself as a constellation of places to share knowledge. The central square, the heart of the project, is the lifeline that connects the city, the students and their teachers. These spaces in which students and teachers meet, enable both a "meeting of minds" and the ability to go beyond the limits of an orthodox classroom. They are spaces to establish social ties and learning in which new tech tools will be used to maintain a permanent dialogue.
Place/Date: Malaga, Spain / 2021-Ongoing
Client: Alfonso X el Sabio University (UAX)

Budget:

38 M €

Area: 297,000 sqft.

Architects:

 luis vidal + architects

Stage:

 Under development

Team:

 Antonio Albertos – Carmen Andujar – Fernando Bello – Carmen Bisono – Almudena Bustos – Nuria Campillo – Álvaro Ferrer – Victoria González-Aller – Jugatx López – Geovanna Prado – Enrique Pérez – Claudia Sabán – José Sánchez – Gentaro Shimada – Javier Torrecilla – Marcos Velasco – Oscar Torrejón – Luis Vidal