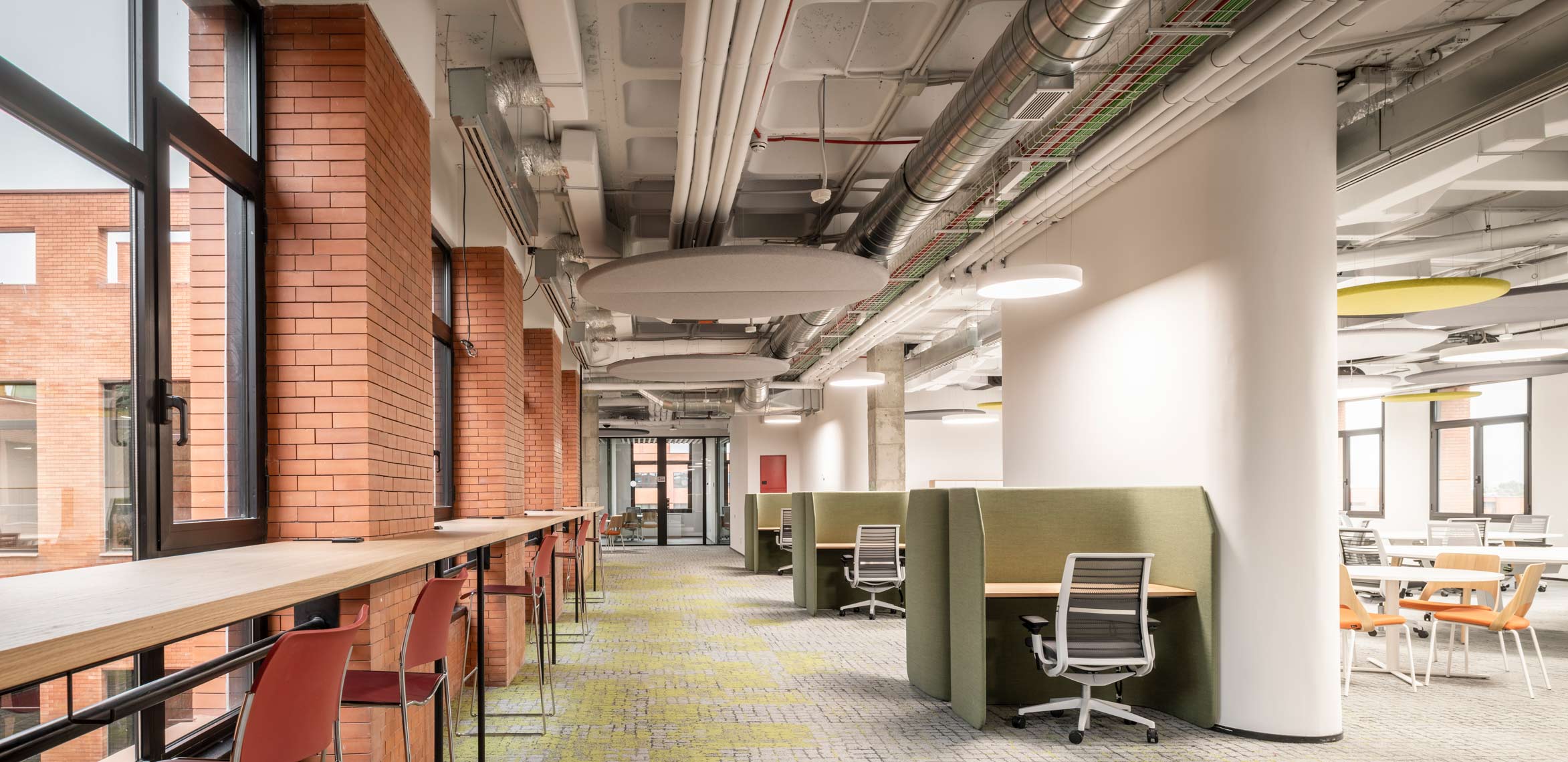 UAX Madrid Building A Modernization
The new spaces for teaching and faculty use at building A of the Alfonso X el Sabio University campus (UAX) in Villanueva de la Cañada have opened their doors after a transformation that offers a more open and brighter image, with an outstanding commitment to the newest technological equipment.
A contemporary interior that embraces digital teaching.
The new classrooms offer excellent continuity and spatial permeability to the complex through a "floating surface" of sound-absorbing louvres independent to the partition, thus creating a continuous and fluid space.
The new faculty spaces, which are open and transparent now, have gone through a transformation to promote teamwork among teachers and a close collaboration with students. These spaces are developed radially, starting, from the red brick patio to the outer perimeter; from the most public areas, such as the high tables around the patio meant for working with an agile methodology, followed by the teamwork tables, to the most private spaces, such as individual offices, all of them having excellent acoustic comfort that favors work and concentration.
Place/Date: Madrid, Spain / 2021-2022
Client:

 

Universidad Alfonso X el Sabio (UAX)

Architects:

 luis vidal + architects

Area:

 

30,140 sq. ft.

Budget:

 2.5 M €

Stage:

 

Built

Team:

 Juan Bueno Bueno – Jugatx López Amurrio – Camille McCollum – Ester Moreno – Lorena Moreta – Geovanna Prado – Patricia Rojas – Gentaro Shimada – Óscar Torrejón – Marcos Velasco – Luis Vidal – Pablo Vives