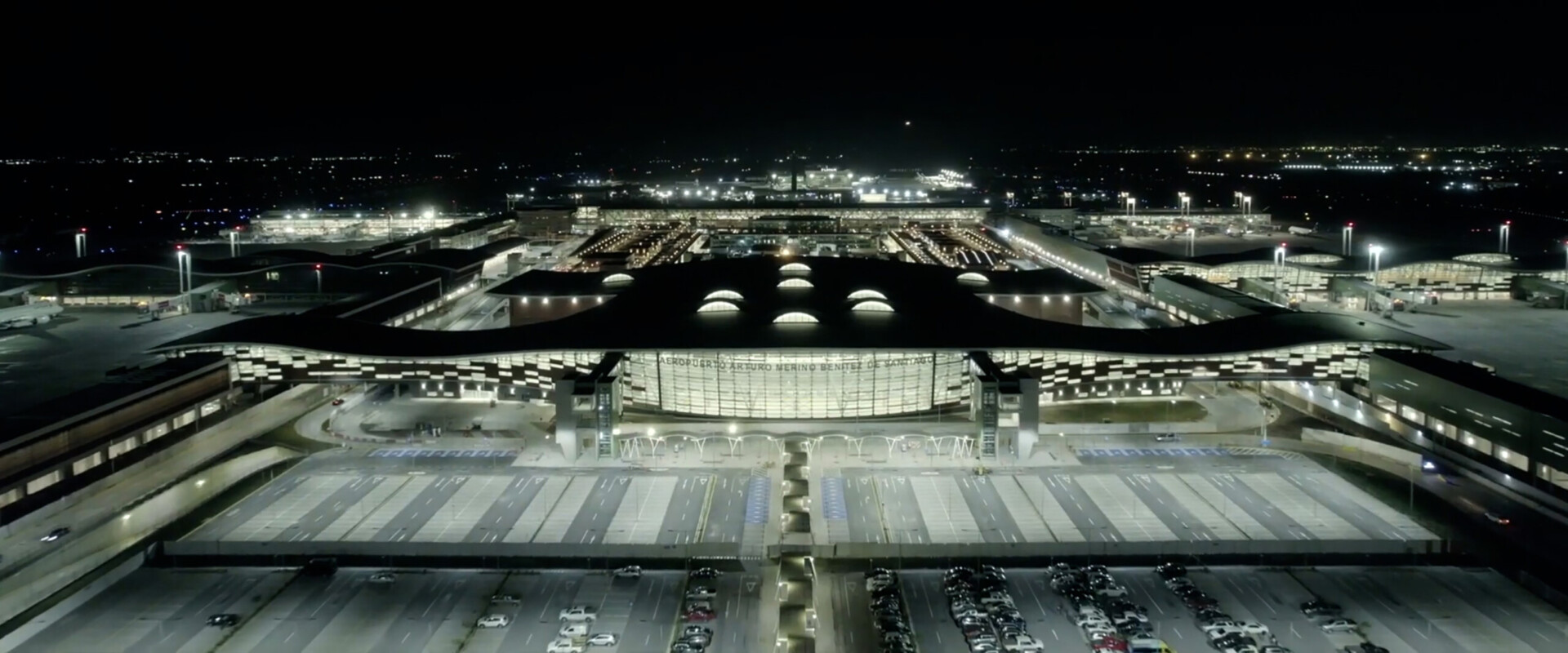 Santiago de Chile International Airport New International Terminal
Santiago, Chile. 2015-2022
A new stage has begun for the Arturo Merino Benítez International Airport in Santiago de Chile. At the forefront of transport infrastructure, the design of the most important airport investment in the country fell into the hands of luis vidal + architects in association with ADPi. The result is an airport prepared to receive up to 5,000 passengers per hour.
The new international terminal building is equipped with a modern control access and four piers. These act as a border between the landside and the airside. The retail, food and beverage areas are evenly distributed throughout them.
The design not only improves the visibility of the stores, by making the flow of travellers pass in front of them, but it also doubles the retail space, reaching 193,750 square feet. The VIP lounges of the airlines are strategically distributed along the halls so that the distance to the boarding gates is not excessive for this type of traveller.
Between the new control and the current Terminal 1 building, there are two covered parking lots with a capacity for more than 3,000 parking spaces. The roof of both parking lots is used as a large, raised welcome square, where the landscaping is the main protagonist.
A variety of sources inspire color design in this country, always at the service of the user: the landscapes, geography, flora and fauna of Chile, as well as the rich craftsmanship of its native people.
Referential Design: Stantec/Amunategui-Barreau.
Place/Date: Santiago, Chile / 2015-2022
Client:

 

SLC-CJV
Area:

 

2,690,000 sq. ft. + 1,076,400 sq. ft. car park

A

rchitects

:

 luis vidal + architects in association with ADPi

Consultants:

 

IDOM / Setec / Arcadis / VMB

Capacity:

 

25 M pax/year

Budget:

 

700 M USD
Stage: Built
Team:

 

João Abreu – Andoni Arrizabalaga – María Astiaso – David Ávila – Guillermo Barra – Alvar Barrera – Bernat Burguera – Ismael Cárdenas – Belén Carrillo – Valentina Chisci – Marta Cumellas – Max Daiber – Itziar de Francisco – Jorge Domínguez – Franco Encina – Beatriz Freiria – Magdalena García de Durango – Sandra González – Carolina Hernández – Trinidad Hildebrandt – José Miguel Ibáñez – Néstor Jara – Pablo Labra – Juan Francisco Letelier – David López – Arturo López-Bachiller – Carlos Maldonado – Concha Millán – Carolina Montenegro – Pilar Morell – Sara Moreno – Nicolás Orellana – Carlos Peña – Enrique Pérez – Isabel Rodrigo – Patricia Rojas – Juan Rubio – Santiago Sánchez – Eduardo Sánchez – Encarnación Serna – Gabriel Sgorbini – Gentaro Shimada – Christian Slaughter – Javier Torrado – Óscar Torrejón – Italo Veas – Luis Vidal