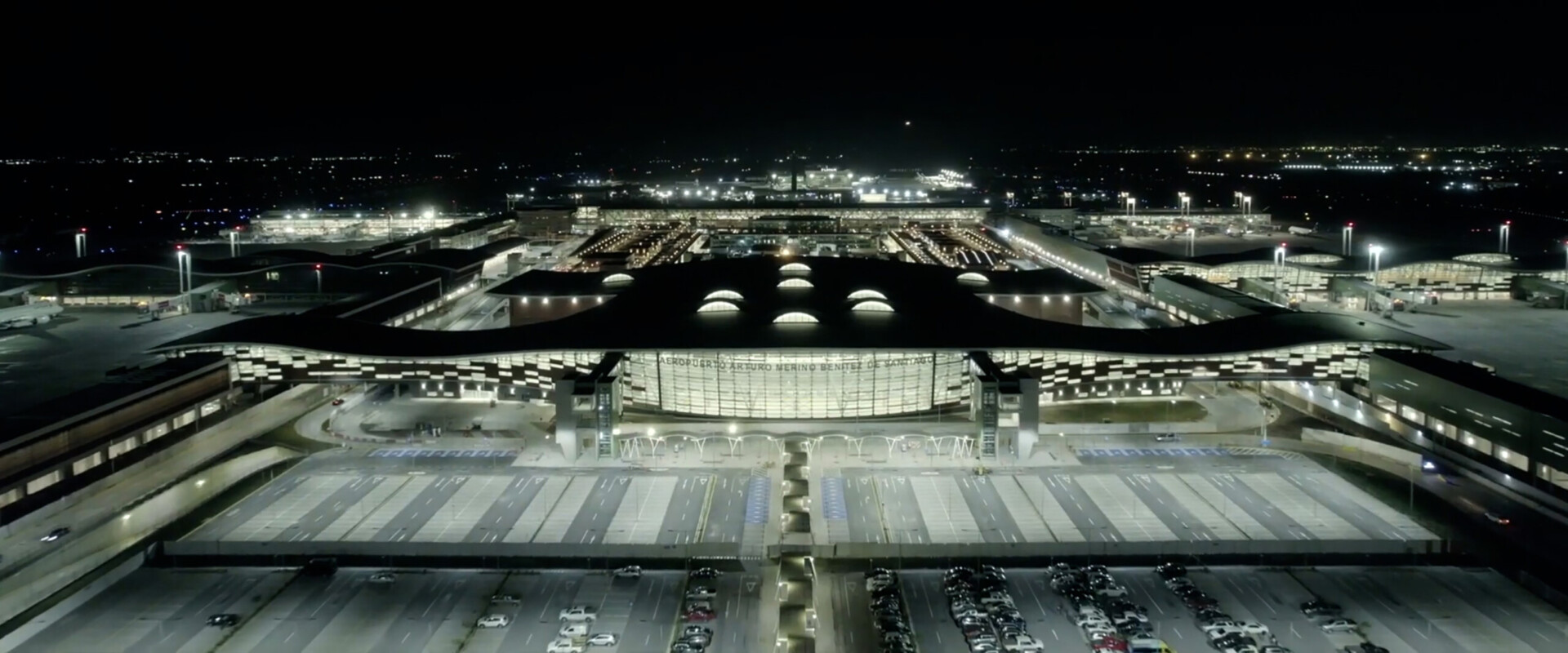 Arturo Merino Benítez International Airport
Santiago, Chile. 2015-2022
A new stage has begun for the Arturo Merino Benítez International Airport in Santiago de Chile, the most important airport investment in the country. Designed to accommodate 30 million passengers a year (up from 16 million prior to this project), it is at the forefront of the continent's transport infrastructure.
The new international terminal building accommodates international passenger traffic, while the original refurbished terminal now operates only domestic flights. Both terminals are interconnected, providing a unitary image of the whole that is complemented by the parking buildings and the public roof of the same, which finally configure a large airport complex. This project has no equal in the entire southern cone of the continent, and is established as a reference in air transport, with an impact not only globally, but also internationally.
Definitive Design or Detail Design: ADPi in association with luis vidal + architects.
Referential Design: Stantec/Amunategui-Barreau.
Place/Date: Santiago de Chile, Chile / 2015-2022
Client:

 

SLC-CJV
Area:

 

2,690,000 sqft.
Architects:

luis vidal + architects / ADPi

Consultants:

IDOM / Setec / Arcadis / VMB

Stage: Built
Team:

 

João Abreu – Andoni Arrizabalaga – María Astiaso – David Ávila – Guillermo Barra – Bernat Burguera – Ismael Cárdenas – Belén Carrillo – Valentina Chisci – Marta Cumellas – Max Daiber – Itziar de Francisco – Jorge Domínguez – Franco Encina – Beatriz Freiria – Magdalena García de Durango – Sandra González – Carolina Hernández – Trinidad Hildebrandt – José Miguel Ibáñez – Néstor Jara – Pablo Labra – Juan Francisco Letelier – David López – Arturo López-Bachiller – Carlos Maldonado – Concha Millán – Carolina Montenegro – Pilar Morell – Sara Moreno – Nicolás Orellana – Carlos Peña – Enrique Pérez – Isabel Rodrigo – Juan Rubio – Santiago Sánchez – Eduardo Sánchez – Encarnación Serna – Gentaro Shimada – Christian Slaughter – Javier Torrado – Óscar Torrejón – Italo Veas – Luis Vidal