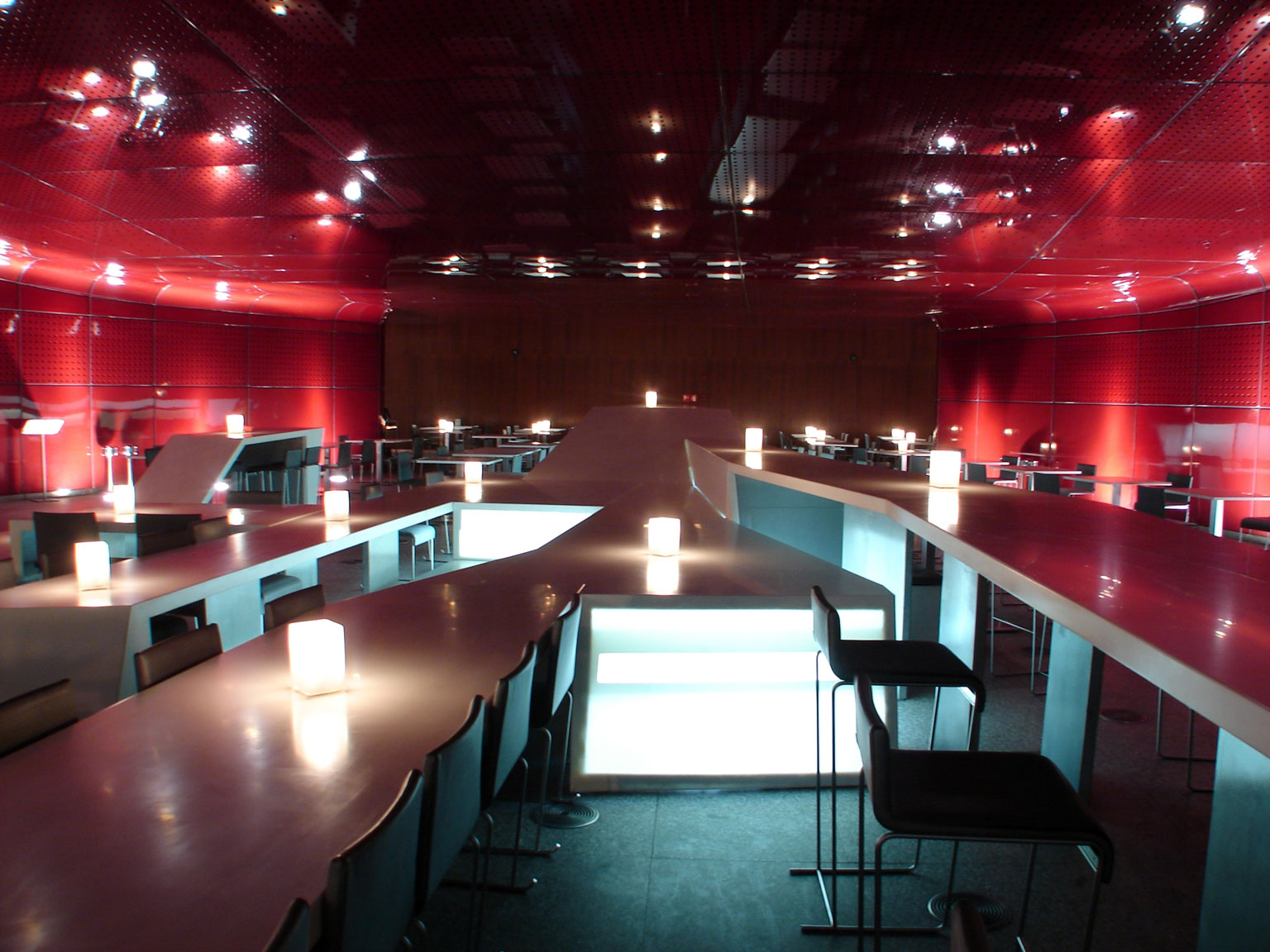 luis vidal + architects addressed the challenge of developing the interior design in a space designed by the architects Jean Nouvel, the team B-720 and Alberto Medem, under the lower deck of the auditorium. Located on the ground floor, with views towards the Ronda de Atocha, this establishment is characterized by its spaciousness and for being a meeting point with different kinds of uses.
The proposal of luis vidal + architects is inspired by the diversity of the space, 'colonizing' it peacefully through a great variety of volumes, materials, textures and colours carefully chosen in the search for an overall balance. Instead of splitting the space with partitions, the concept of "table-bands" was devised, which would serve as a separation of uses without breaking the overall view. The table-bands, continuous and shining, act as elements of distribution from a central strip that divides the space into a bar area and a dining area. As a whole, the table-bands create interrelated micro-landscapes, connected by non-hierarchical decreases in height, creating an organic, changing and versatile continuity between the furniture and the open space of the restaurant. The material used to produce them (HI-MACS®) was chosen among others for its durability, transparency and quality.
The lighting concept meets the technical requirements of the restaurateur while preserving the "privacy" of each area of the table-bands. The solution consists of rechargeable wireless lamps, which provide high-quality lighting and greater flexibility of use in harmony with the theme of the entire proposal.
Place/Date: Madrid, Spain / 2004-2005
Client:

 

Occidental Hotels

Budget:

1 M €

Area: 8,600 sqft.

Architects:

 luis vidal + architects

Consultants:

Friusa / Viccarbe

Stage:

 

Built

Team:

 Ignacio Álvarez-Monteserín – Marta Cumellas – José Gad Peralta – Carmen Jiménez – Ana Marco – Patricia Rojas – Óscar Torrejón – Veronica Van Kesteren – Luis Vidal