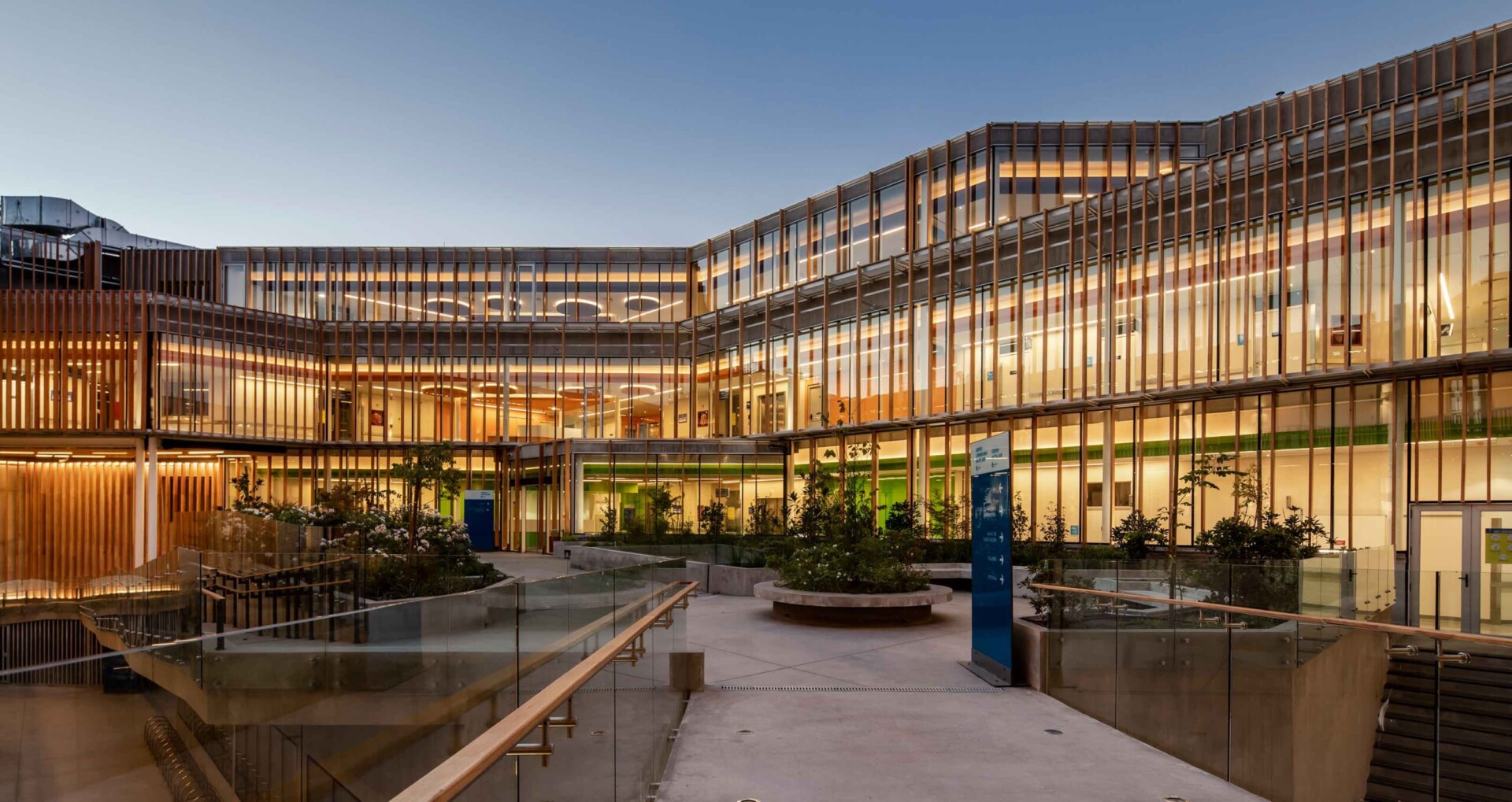 Matta Sur Community Center + CESFAM
Santiago, Chile. 2015-2021
When architecture acts on historical buildings, it becomes responsible for the memory and identity of the place in which it is intervening.
luis vidal + architects has completely refurbished a 19th-century building located in the center of Santiago de Chile, carefully restoring and recovering it piece by piece. At the same time, its proposal included the design and construction of a new building within the existing plot (the General Healthcare Clinic – CESFAM), which aimed to establish a dialogue with the heritage building (a community center now), combining tradition and modernity.
The heart of the project lies in the dialogue between the two buildings that make up the Matta Sur Complex, the old one and the new one, through a homogeneous architectural language based on rhythm, materiality and spatiality. The design of the new building is respectful and discreet to enhance the original building. As a result of this dialogue, a new public space, the plaza, arises as a connecting element between the two centers.
The Matta Sur complex has a program that came out from neighbors' surveys and is the answer to the challenge of the cities of the future and to what today's societies need most urgently: more public spaces where neighbors can co-exist, share, be connected, and foster a sense of community. A project that, having been nominated and won on over ten occasions since its opening, keeps getting the attention of media and users worldwide.
Place/Date: 

Santiago, Chile / 2015-2021

Client:

 

Ilustre Municipalidad de Santiago

Architects:

 luis vidal + architects

Consultants:

 Cristian Shadd / COBE / José María Jiménez / Estudio de Paisaje Arbolaria / One Geotecnia

Area:

 

56,000 sq. ft.

Budget:

 8.6 M €

Stage:

 

Built

Team:

 João Abreu – David Ávila – Bernat Burguera – Valentina Chisci – José Ignacio Comparini – Sebastián Cruz – Marta Cumellas – Patricio Fuentealba – Juan Francisco Letelier – Arturo López-Bachiller – Carlos Maldonado – Concha Millán – Enrique Pérez – Patricia Plath – Paola Ramírez – Cecilia Rodríguez – Patricia Rojas – Raúl Rosado – Santiago Sánchez – Paola Seguel – Encarnación Serna – Gabriel Sgorbini – Óscar Torrejón – Italo Veas – Luis Vidal