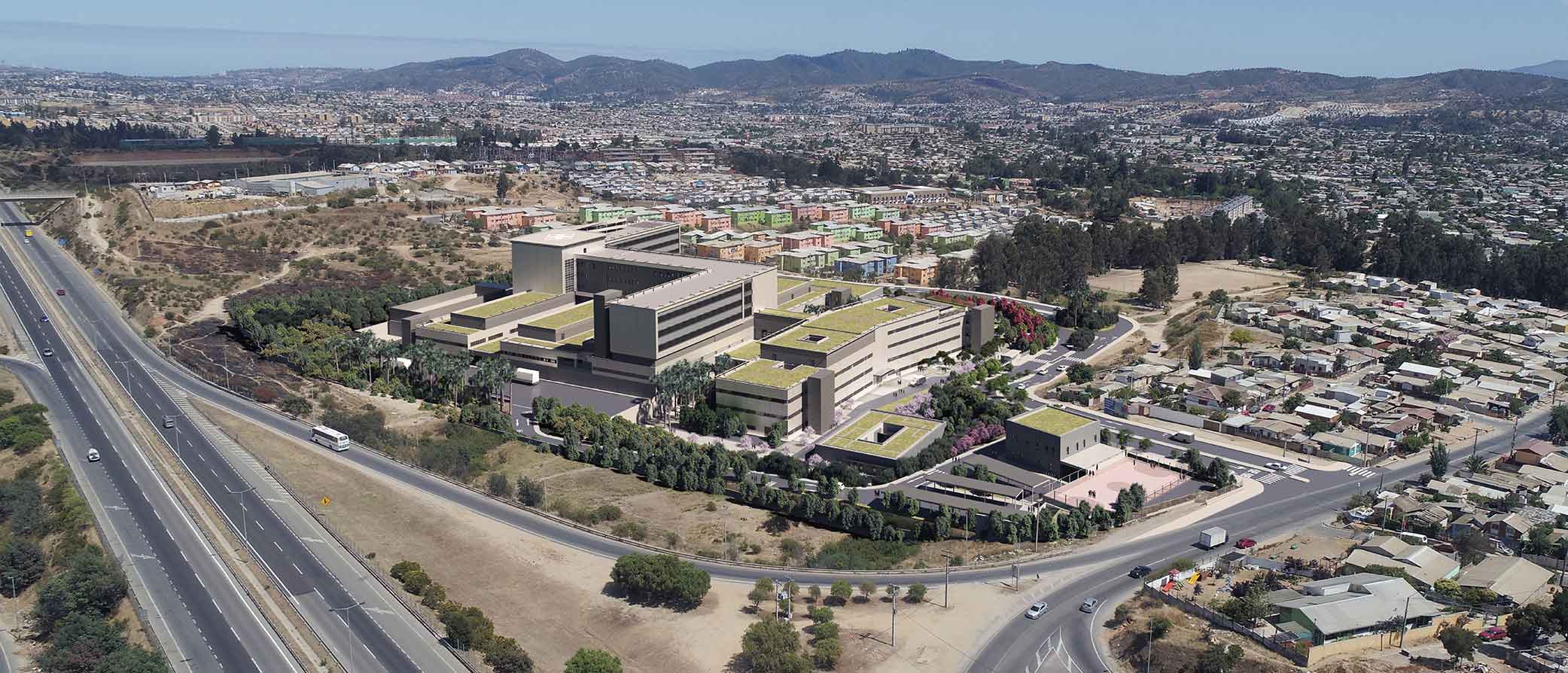 Villa Alemana, Chile. 2018-Ongoing
The Ministry of Public Works (MOP), in collaboration with the Ministry of Health (MINSAL) and the Healthcare System of Viña del Mar (SSVM), commissioned luis vidal + architects and SWARQ the design of a new hospital in the V Region of Chile, Valparaíso.
This project aims to become a reference to Villa Alemana and will be interrelated with a network of hospitals through the Southern CH-60 highway. The construction and financing will be through a public-private partnership (PPP).
The plot is bordered on the north by the municipality of Villa Alemana and on the south by the highway. It is bounded on three sides by steep slopes that protect it from the noise of the highway. The creation of treatment blocks fills the basin produced by geographical features. The slope is softened in contact with the city, providing a façade to it that creates a friendly urban space with access to the hospital.
On the other hand, it is worth noting that a dry riverbed runs from North to South in the middle of the land. Because of the anti-seismic regulations of the country, it is considered a vulnerable area, and foundations in this zone have to be avoided. The program has therefore been divided into two slabs over anti-seismic insulators that are interrupted over the watershed by a building of non-clinical use, which works like a simply supported beam, free of movement at the ends of the slabs.
Schematic design by luis vidal + architects in association with Swarq.
Place/Date: Villa Alemana, Chile / 2018-Ongoing
Client:

 

Dirección General de Obras Públicas, Ministerio de Obras Públicas, República de Chile

Architects:

 luis vidal + architects

Consultants:

 Lynka / Arbolaria / Ruz y Vukasovic / Swarq (schematic design)
Area:

 

812,700 sq. ft.

Budget:

 136.5 M €

Stage:

 

Under construction

Team:

 João Abreu – María Álvarez-Santullano – María Astiaso – David Ávila – Fernando Callejón – Eva Couto – Marta Cumellas – Alba del Castillo – Equipo Swarq – Nuria Espina – David Fernández-Feito – David Fernández Llompart – Guillermo García – Isabel Gil – Carlos González – Mónica Gutiérrez – Carolina Hernández – Arturo López-Bachiller – Julio Isidro Lozano – Patricia Lozano – Jesús Mejías – Lourdes Moreno – Sara Moreno – Enrique Pérez – Patricia Rojas – Irene Rojo de las Heras – Manuel Sánchez de Ocaña – Pedro Portillo – Francisco Sanjuan – Francisco José Terrero – Óscar Torrejón – Sol Uriarte – Luis Vidal