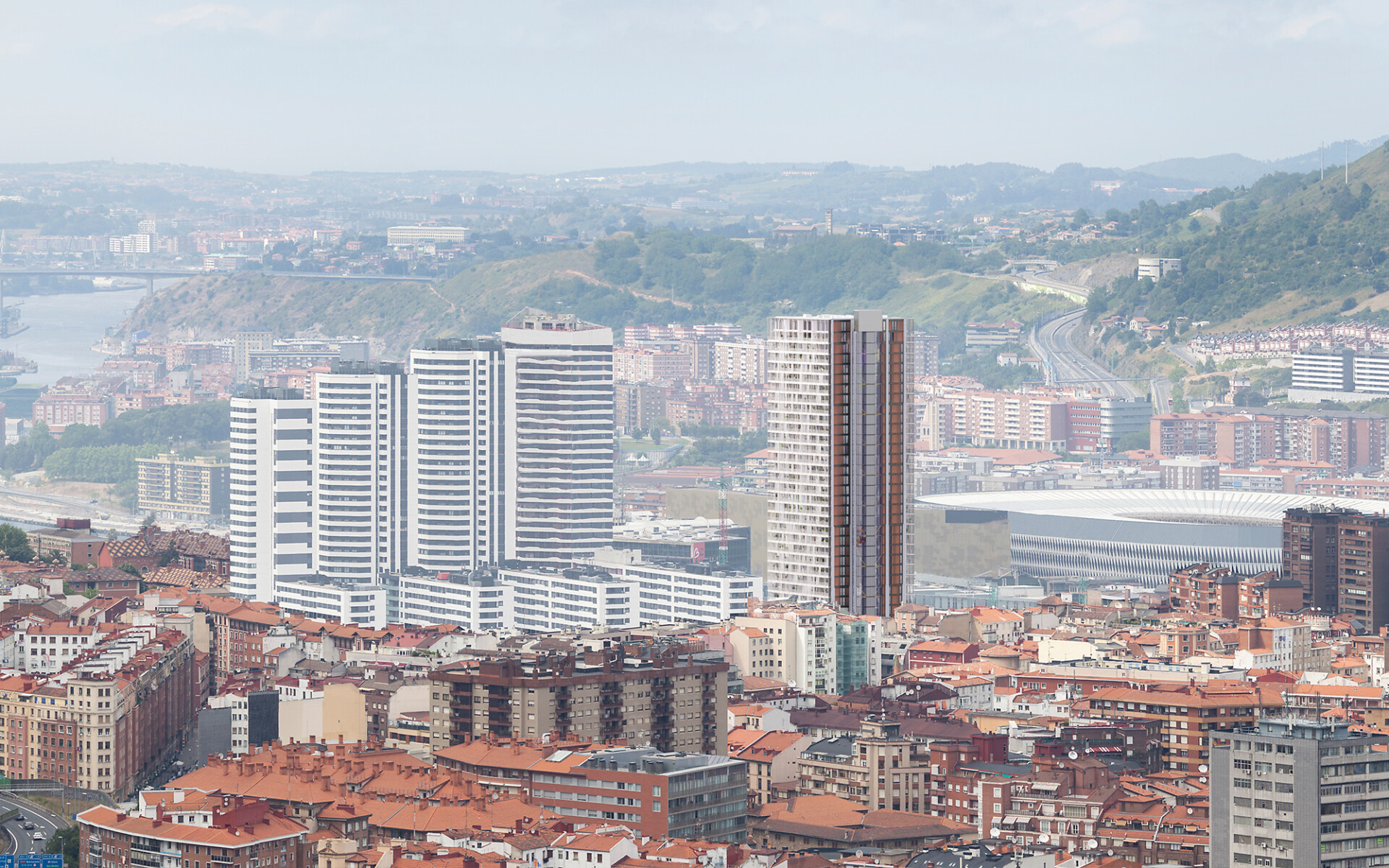 Garellano Tower – Anboto Dorrea
Bilbao, Spain. 2018-Ongoing
The Anboto Tower, located in the Garellano area, in Bilbao, will be the last tower to be completed by the Garellano masterplan proposed by RSHP and luis vidal + architects in 2009. An unprecedented residential tower in Spain that has a unique design and that will be integrated between the different modern and nineteenth-century urban fabrics of the city. This tower will be the first residential building in the country for both the RSHP practice and for luis vidal + architects.
The tower will have a total height of 114 meters above ground level with 35 floors, making it the tallest residential building in the entire Basque Country and the second tallest in Bilbao, just behind the 165-meter Iberdrola office tower. The ground floor, first and second located in the basement of the building, total an area of approximately 53,820 sqft., and will be intended for commercial use. The 323,000 sqft. tower will house 32 floors with 2, 3 and 4 bedroom homes with designs that maximize space and take advantage of every inch. However, each owner will have the ability to choose the finishes and make modifications to the plan, so the results will be 166 unique tailor-made homes.
A pre-established design for the commercial area will also be controlled so that the building does not lose its identity and remains with a unique design over time.
The design of the Anboto Tower enhances the use of natural light. The east and west facades are formed by curtain walls coated in aluminium with copper colours, characteristic of the city, and that gives a particular aesthetic to the building due to glare and reflections.
This residential tower revalues the entire area, providing a unique architecture and image to the city.
Place/Date: Bilbao, Spain / 2018-Ongoing
Client:

 

Grupo Arrasate Taldea
Area:

 

507,000 sqft.

Architects:

 luis vidal + architects / RSHP

Consultants:

BAC Engineering Consultancy Group

Stage:

 

En construcción

Team:

 Bianca Amerini – Lucía de Molina – Jose Benito Fernández – Beatriz Fernández-Bermejo – Jugatx López Amurrio – Joaquín Maire – Carlos Peña – Patricia Quilez – Ángel Ruiz – Gentaro Shimada – Óscar Torrejón – Luis Vidal