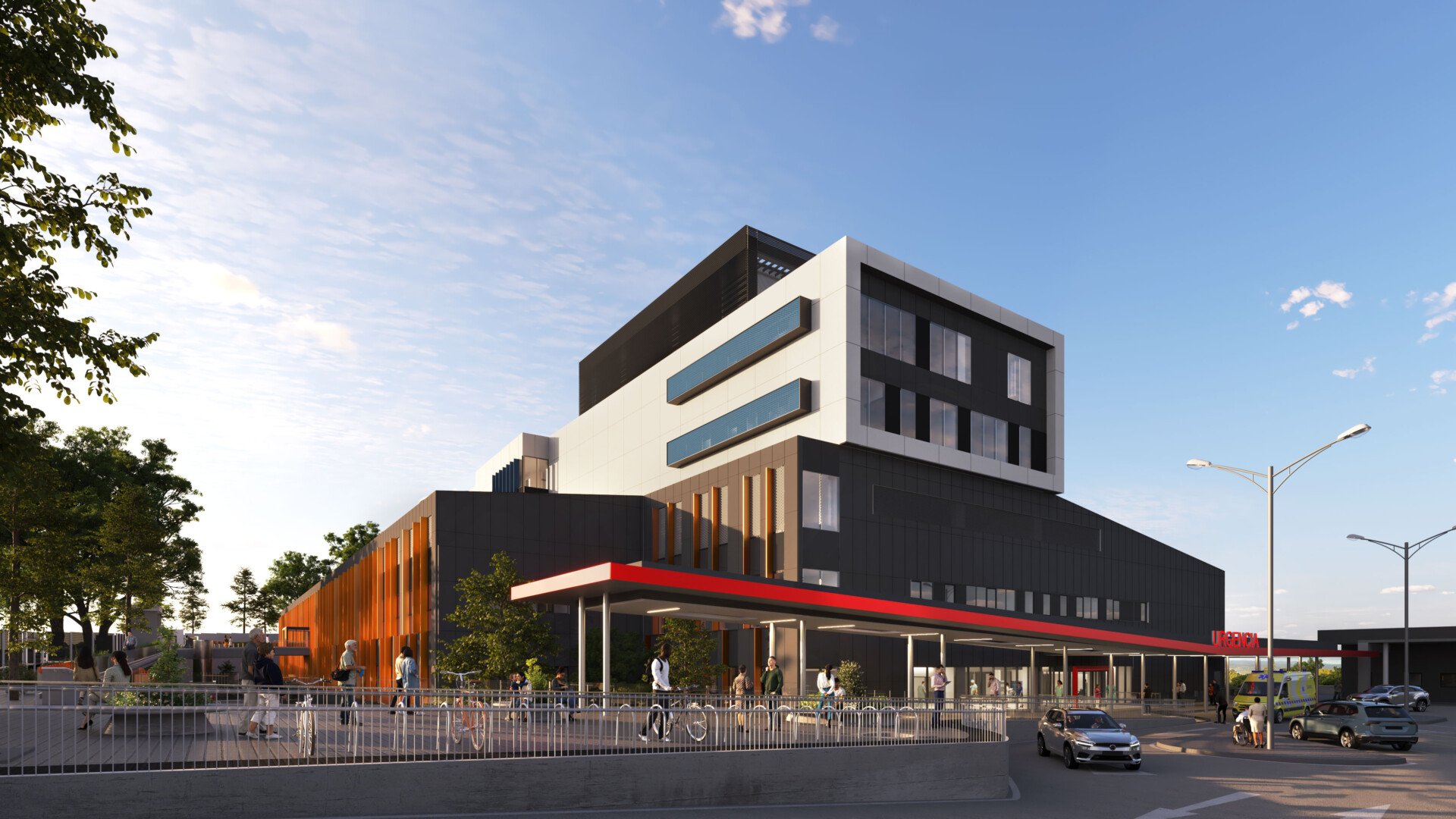 Constitución Hospital – Maule Healthcare System
Constitución, Maule Region, Chile. 2021-Ongoing
The Constitución Hospital will serve 57,573 people from the Constitución and Empedrado communities, with an estimated area of 403,797 square feet. It will have the capacity for 111 beds, three pavilions, 22 consultation rooms, emergency care services, diagnostic and therapeutic support, and administrative and industrial support services to meet the demand for healthcare in the area.
According to the current community regulatory plan, the new Constitución Hospital is located on Río Maule Street and next to the Copihue Village. The site has an area of 788,000 square feet, adjoining to the north with Calle Prieto, Arnoldo Opazo and Forestal Arauco S.A. To the south with other property owners and Villa Verde One. To the east with a free plot and to the west with Maule Street.
The site is located at 129 meters above sea level. Concerning the topography, it is a vast plot, characterized by irregular topographic conditions, with a notable downward slope from Rio Maule Street to Prieto Street. Significant ravines are observed at the bottom of the site, which follow the natural condition of the terrain, with height differences of approximately 20 m. The portion of land parallel to Rio Maule Street has the most favorable topographic condition compared to the rest of the site.
Taking advantage of these conditions, the building is developed from North to South, organizing itself as a spine, integrating concepts of functional, operational and energy efficiency.
Place/Date: Constitución, Maule Region, Chile / 2021-Ongoing
Client:

 Sociedad Concesionaria Red Maule – MOP Concesiones

Architects:

 luis vidal + architects

Area:

 408,0

00 sq. ft.

Budget:

 67.1 M €

Stage:

 

Under construction

Team:

 Alfredo Abarca – Constanza Astaburuaga – David Ávila – Juan Carlos Barros – Fernando Bello – Daniela Cáceres – Sebastián Cruz – Katherine Donoso – Natalia Espósito – Constanza Fernández – Mayra Ferruz – Hernán Gaete – Gonzalo Garrido – Alejandro González – Rocío González – Lucía Greco – Trinidad Hildebrandt – Consuelo Larrea – Claudia Leal – Macarena Márquez – Marcelo Miotto – Esteban Moreno – Óscar Olivares – Mariantonela Romano – Patricia Rojas – Daniela Saavedra – Jorge Sánchez – Óscar Torrejón – Daniela Vargas – Italo Veas – Luis Vidal – Francisca Virán – Nathaly Yamarte