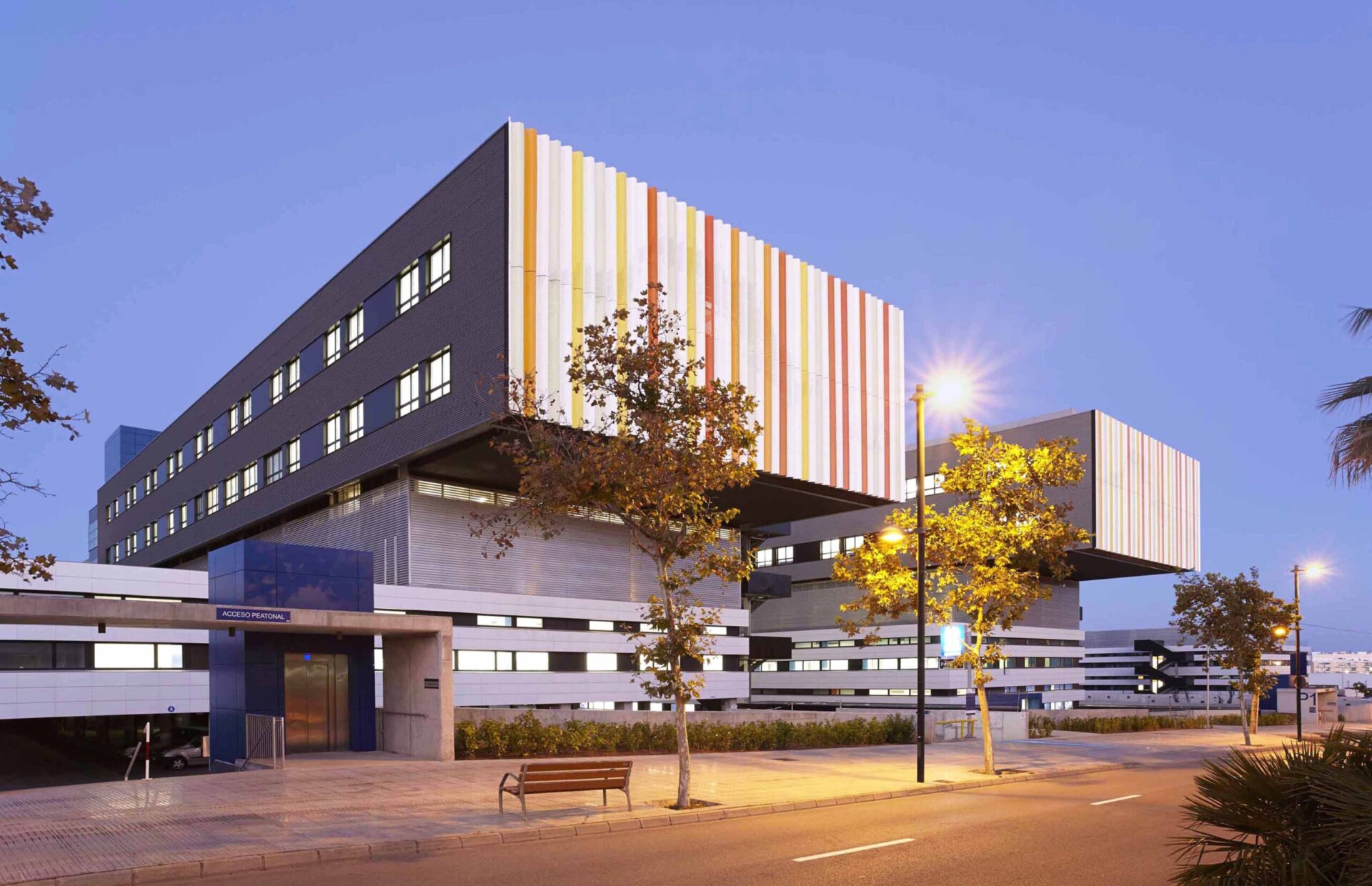 Designed by luis vidal + architects in a joint venture with Arup Engineering, D-fine for Bill of Quantities, and CSP for Health & Safety.
The Health Service commission is to refurbish and to extend the existing public Hospital into a new Healthcare Complex, tripling the sanitary surface and taking advantage of the change to transform the way the staff works, thus achieving a high-efficiency hospital. The construction and funding of this project is done through a concession model in which health services are public management and non-health services, private management. 
The design was conceived in order to reinterpret Ibiza's local architecture by using a fragmented construction and introducing white as the predominant color, in this way being the largest building on the island that is an integrated part of the environment. The building extension doubles the existing surface area, housing all healthcare services, whilst the existing building is refurbished to house supplies and logistics facilities, freeing up a large area for future expansion and/or other uses.
The project restructures the flows of patients, families, and doctors and connections between services, thereby improving user privacy and the connectivity between services. It is a modular Hospital that is efficient, user-friendly, and allows for future growth.
Designed following sustainability guidelines, passive and active measures have been implemented from the initial stages for energy efficiency and to minimize environmental impact, such as the implementation of the "hospital garden", sunlight control, or the creation of a cogeneration plant.
Place/Date: Ibiza, Spain / 2008-2014
Client:

 

IB Salut, Servicio Balear de Salud

Budget:

73,6 M €

Area:

 

723,000 sqft. (500,000 sqft. hospital + 21,500 sqft. redevelopment + 201,500 sqft. car park)

Architects:

 luis vidal + architects

Consultants:

D-fine

Stage:

 

Built

Team:

 María Astiaso – David Ávila – Marta Cumellas – Begoña de Andrés – Almudena de Benito – Óscar Ignacio Encabo – David Fernández Llompart – Cristina Galván – Magdalena García de Durango – Isabel Gil – Jaime Gimeno – Carolina Hernández – Itziar Lamy – Jugatx López Amurrio – Patricia Lozano – Paloma Martín – Héctor Orden – Javier Palacios – Martina Rauhut – Patricia Rojas – Francisco Rojo – Arturo Romero – Francisco Sanjuan – Adriana Sobrini – Óscar Torrejón – Luis Vidal – Pablo Vila Ramiro