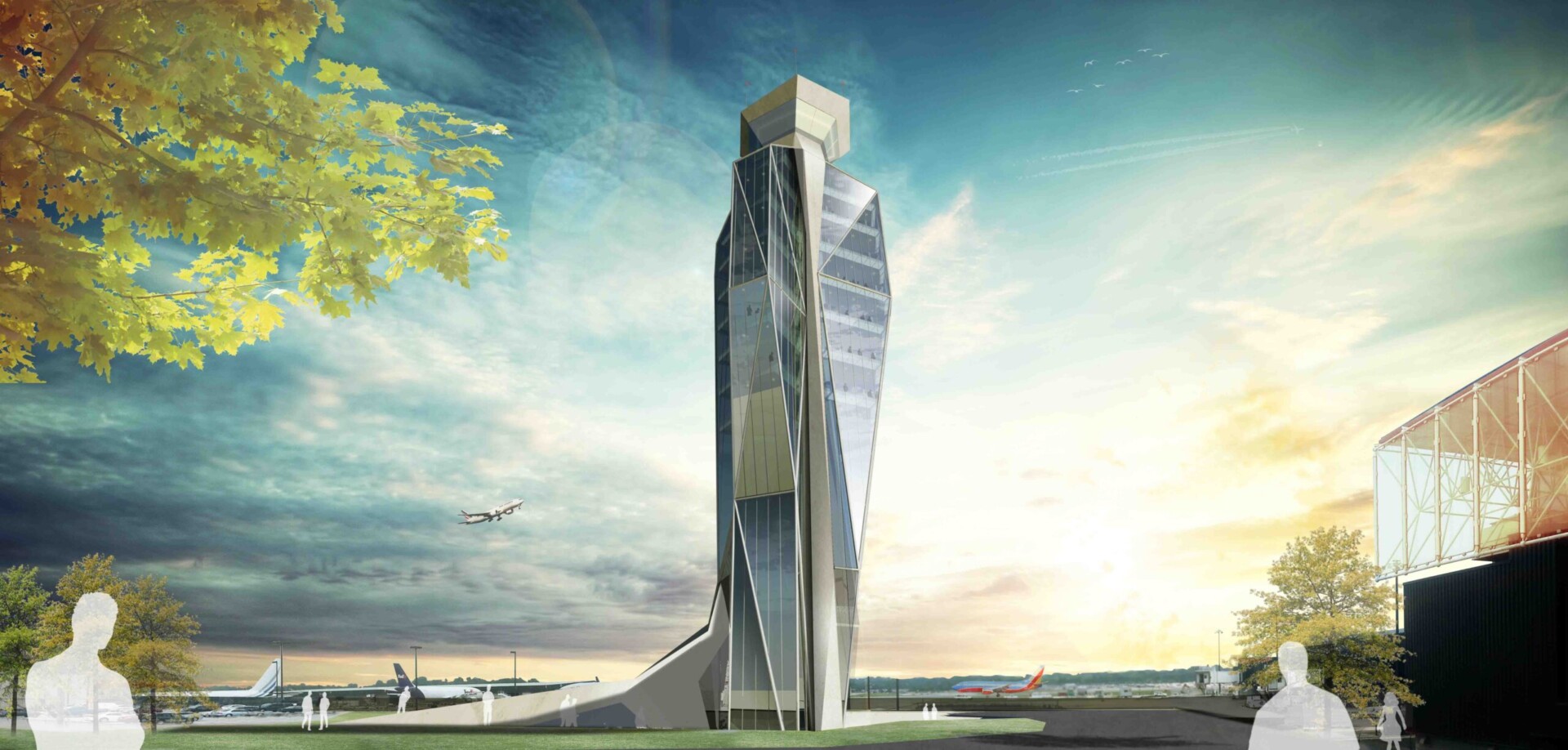 Baltimore Airport New Control Tower
Baltimore, Maryland, USA. 2014
BWI Marshall is moving into this new and exciting phase by making major improvements to the airport terminal infrastructure enhancing and upgrading the airport facilities. One of the key elements for this is the new Air Traffic Control Tower (ATCT) that improves safety and enhances airport experience for both passengers and airlines.
The ATCT rises into the sky, transforming the horizon and becoming the icon of the new identity of BWI Marshall airport. This iconic infrastructure stands as a powerful image of the future challenges of BWI Marshall airport carrying ad representing its values: a technological tower that will be not only functional but cost effective, recognizable and sustainable.
That was the real challenge for our team: to design together the shape of the future for BWI. With exquisite functional planning and addressing every constraint, every requirement, the ATCT not only complements and upgrades the terminal but accompanies it in its growth as an integral part of the airport.
We are a cross-disciplinary team with an international-recognized experience in airport design and aviation projects management that understands what passengers want when they fly, what airlines demand and what stakeholders expect from the facilities. We believe in the importance of dialogue and we have a strong commitment to responsibility, understood from its economic, social and environmental point of view. And all these values and our commitment to responsibility will beat in our design proposal. From the economic point of view, the ATCT will be cost effective, providing the best quality product on time and within budget. From the social point of view, the ATCT will improve safety and will represent the new impulse of BWI Marshall airport's identity. Because when you build identity, you also create interaction, identification and, therefore, community. Finally, the ATCT will be energy efficient and sustainable. The new iconic control tower will defy the sky to prove that other landscape, more responsible and more sustainable, is possible.
In short, BWI Marshall new ATCT will have the shape of the future, combining innovation with performance, development with sustainability, cost efficiency with quality, identity with functionality and technology with emotion.
Place/Date: Baltimore, Maryland, USA / 2014
Client:

 

Baltimore / Washington International Thurgood Marshall
Architects:

luis vidal + architects

Consultants:

 

AECOM
Stage: Conceptual design