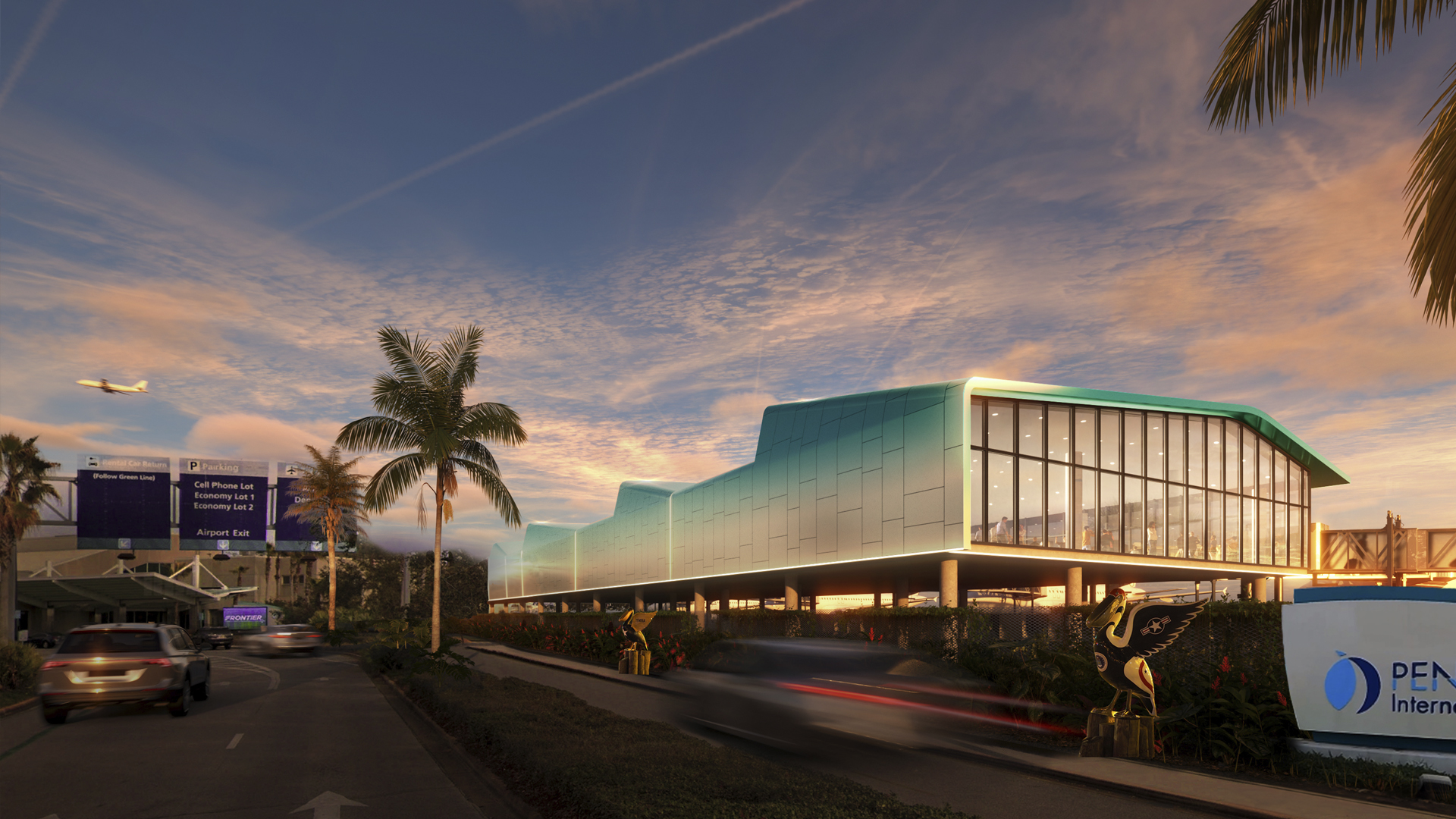 EXP/luis vidal + architects to lead the Passenger Terminal Expansion Project at Pensacola International Airport
The City of Pensacola and Pensacola International Airport (PNS) have selected EXP/luis vidal team to deliver the design of the airport's $70+ million Passenger Terminal Expansion Project. The design by EXP and luis vidal + architects will incorporate essential infrastructure improvements to fulfill Pensacola International Airport's Master Plan. This expansion project will bolster PNS's short and long-term goals of serving as a world-class gateway and driver of economic growth throughout the region.  
PNS has accommodated record-breaking passenger traffic since 2019. With accelerated expansion and growth plans, the project will strengthen the airport's ability to meet current and future infrastructure and capacity demands. The Passenger Terminal Expansion Project includes a new concourse with enhanced connections to the existing terminal building, expanded passenger security screening checkpoints and new boarding bridges. As the lead designer, EXP will provide oversight for all architectural, engineering and design-related services to ensure the successful delivery of the project from concept to completion. 
"The selection of our team for this project is a testament to EXP's commitment to operational excellence, innovation and functional design and ability to achieve the client's vision," said EXP's Director of Aviation Marcos Souza. "Our extensive background in the design of new airport facilities, including renovation and expansions of existing facilities offers a holistic approach with emphasis on PNS's 'Fly Easy' promise for unforgettable passenger experiences," he continued. 
"Alongside with EXP, luis vidal + architects have not only carefully studied the facility, but the community and history of Pensacola to come up with a winning design that mirrors the city's unique sense of place. From the inside and outside, every detail of this project reflects and enhances this region's potential and natural richness", said Luis Vidal, founder and president of luis vidal + architects.
With more than 50 years of experience in the aviation sector, EXP is an industry leader in the delivery of full architecture and engineering services to airports across North America. EXP's expertise includes award-winning solutions for large hub airports including Miami International Airport, Chicago O'Hare International Airport, Toronto Pearson International Airport, St. Louis Lambert International Airport and countless other general aviation to medium hub airports. Our integrated delivery practice offers clients everything from drop off to take off. Since 2018, our projects have been the recipient of over 120 industry awards.
luis vidal + architects is an international practice with offices across the US, Dominican Republic, Chile and Spain. The firm is a world-class reference in airports but also in the design of museums, business parks, hospitals and mixed-use complexes. Their work has been internationally awarded on 60 occasions. Heathrow Terminal 2 was elected World's Top Airport Terminal at Skytrax 2018. Other notable projects include several international airports in major U.S. cities, such as Pittsburgh, Boston, Dallas and Denver.
The design phase is expected to be complete in approximately 12 months with estimated construction completion in three to five years. 
For more information:
| Director of Communications

|

|