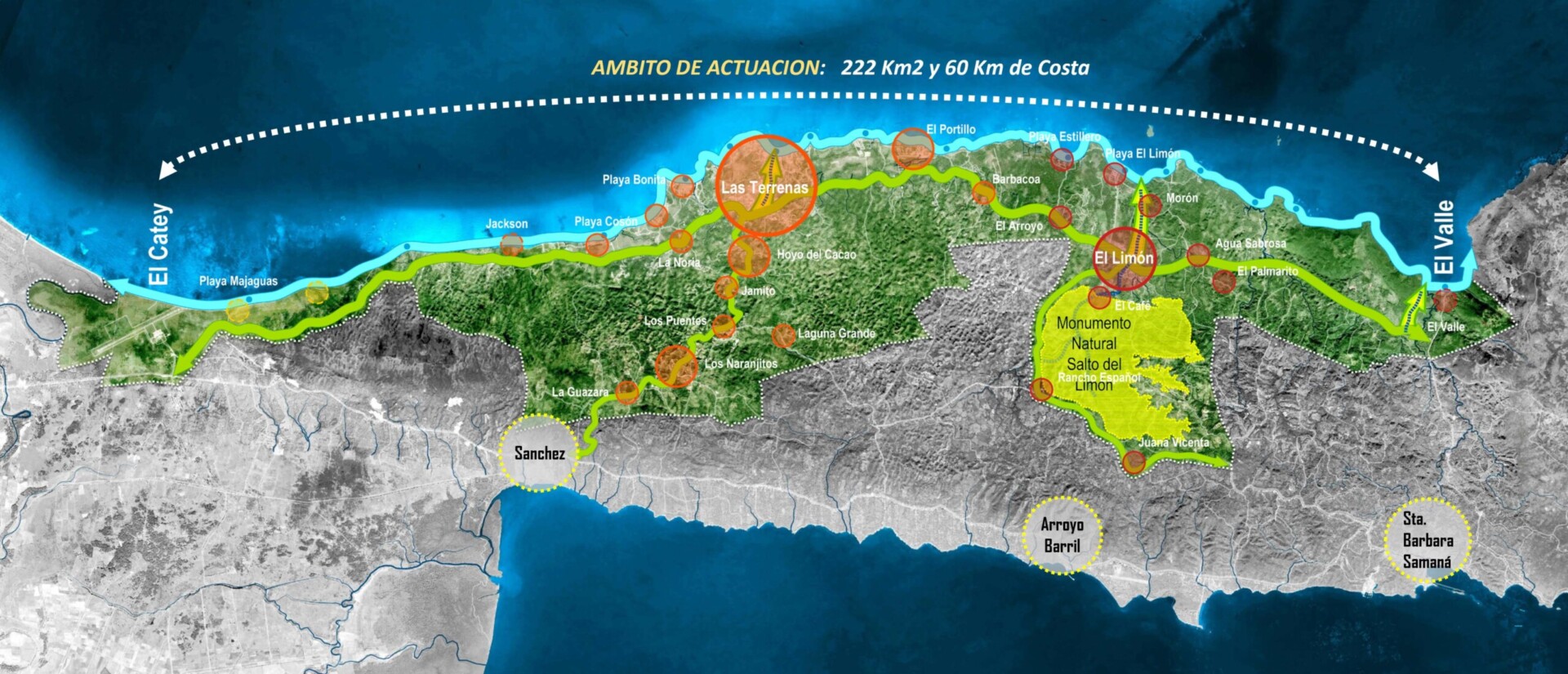 Samana, Dominican Republic. 2017-Ongoing
The PETOT (Urban and Territory Strategic Plan) is a planning tool designed to transform 22,200 Ha. of land located in the north of the Samana Peninsula into a new urban landmark with its character and identity. The main goal is to turn this area into a landmark recognizable both in a national framework as a place-to-gather, and in an international one as a new destination.
In Phase 1, the strategy was defined by establishing the following guidelines: Connectivity: making Samana a connected area, where pedestrians play the main role together with the public realm; Diversity: Samana Peninsula aims to be a diverse territory where coastal tourism is combined with mountain and landscape tourist attractions, dotted with a complete-multifunctional equipment´s system.
As a next step, and taking into account different scales, Phase 2 settles down a proposal that contains a territory and tourism model based on the protection and enhancement of landscape and natural resources. This phase establishes a sustainable transport and mobility network that improves global accessibility to the area while pointing out the preferred location of both local and general equipment and facilities that aim to enrich the quality of life of both residents and visitors.
Place/Date: Samana, Dominican Republic / 2017-Ongoing
Client:

Ministerio Administrativo de la Presidencia de República Dominicana
Area:

22,200 Ha.

Architects:

luis vidal + architects

Stage:

Under development
Team: Constanza Andrade – Carmen Andújar – Leidy Delgado – Itziar de Francisco – Zainab Ibrahim – Pedro de Lachiondo – Rafael Meana – Paloma Montero – Alejandro Nieto – Eugenia Porras – Johanna Rodríguez – Leslie Salomón – Fernando Sánchez – Gonzalo Sánchez – Cristina Sánchez – Óscar Torrejón – Luis Vidal – URBE