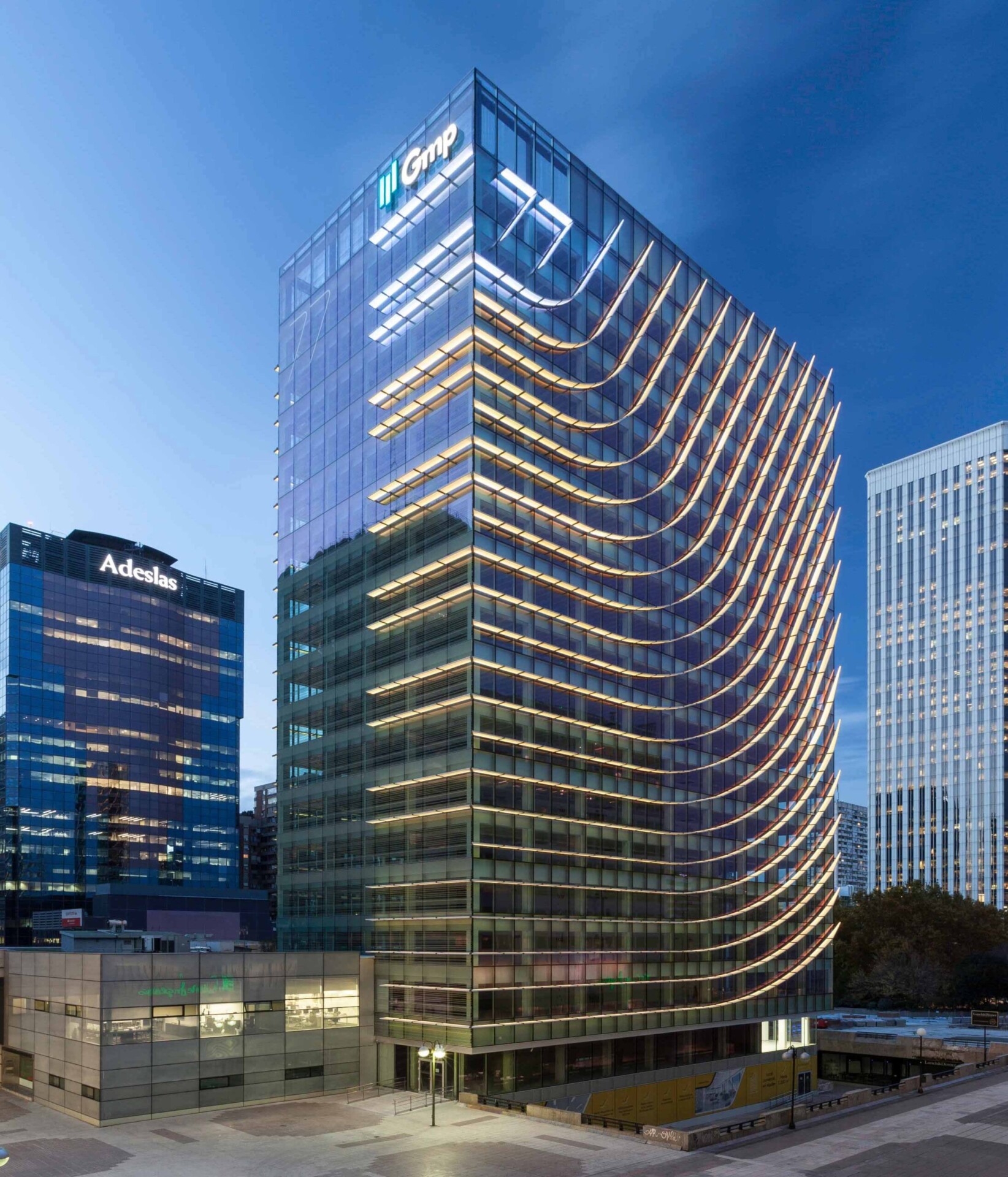 All cities have silent icons and Castellana 77 is one of them. A building that rises in the AZCA district, the financial heart of Madrid (Spain) which beats with the rhythm of the country´s capital and driving force for business, is a symbol of urban and economic regeneration. Castellana 77, which belongs to GMP group, is an investment opportunity and a new icon of the architectural heritage of Madrid.
The identity of this emblematic building is emphasized with its surprising "new skin", set to become a design reference. The design reflects the DNA present in all luis vidal + architects projects at all scales: economic, social and environmental responsibility. Guided by these three principles, the practice transforms each design into a legacy.
luis vidal + architects have transformed Castellana 77 into a flagship, the second most expensive square meter in AZCA. It stands at the forefront with this sustainable and aesthetically bold building that catches the eye and leaves a mark.
Place/Date: Madrid, Spain / 2015-2017
Client:

 

Gmp
Area:

 

274,000 sqft.

Architects:

 luis vidal + architects

Consultants:

Calter / Vectoria / Ineria / CSP

Stage:

 

Built
Sustainability

: 

LEED Platinum Certification

Team:

 Carmen Andújar – Andoni Arrizabalaga – José Benito – Marta Cumellas – Alba del Castillo – Carlos González – Carolina Hernández – Julio Isidro Lozano – Jugatx López Amurrio – Joaquín Maire – Peru Medem – José Luis Moráis – Alejandro Nieto – Patricia Rojas – Irene Rojo – Francisco Sanjuán – Gentaro Shimada – Óscar Torrejón – Luis Vidal